Wikileaks has announced that it will reveal the name of the country that is having nearly all of its mobile phone calls tapped by the US National Security Agency (NSA) within the next 72 hours.
The group tweeted that it will "reveal the name of the censored country whose population is being mass recorded in 72 hours" despite warnings from investigative journalist Glenn Greenwald that he was "very convinced" the leak could "lead to deaths".
Greenwald, editor of The Intercept, revealed that the NSA has tapped almost all the Bahamas' mobile phone calls under a secret programme code-named Somalget, citing documents leaked by Edward Snowden.
However, the journalist, famed for publishing Snowden's leaks, refused to disclose the name of a second country where the NSA is phone-tapping because "there was a very convincing probability... for how innocent people would die."
Somalget
The Intercept's report suggests that the NSA can "vacuum up and store the actual content of every conversation" in the Bahamas and the unnamed country.
The Somalget programme records actual conversations before storing them for up to 30 days, when the agency wipes them from their records.
The programme is useful to the NSA as analysts can go back in time and listen to recorded phone calls rather than making "tentative analytic conclusions derived from metadata", according to an NSA official in a 2012 memo obtained by The Intercept.
"[W]e buffer certain calls that MAY be of foreign intelligence value for a sufficient period to permit a well-informed decision on whether to retrieve and return specific audio content," said the official in the memo.
The documents leaked by Snowden claim that the use of the Somalget program in the Bahamas and the mystery country "has led to the discovery of international narcotics traffickers and special-interest alien smugglers."
Mystic
The documents proceed to recommend the use of the programme in other locations around the world because of its utility.
"With proper engineering and coordination there is little reason this capability cannot expand to other accesses," it reads.
The Intercept also revealed that Somalget is part of a wider programme codenamed Mystic which collects the metadata of phone calls - source, destination and time but not content of conversations - from the Bahamas, Kenya, Mexico and the Philippines.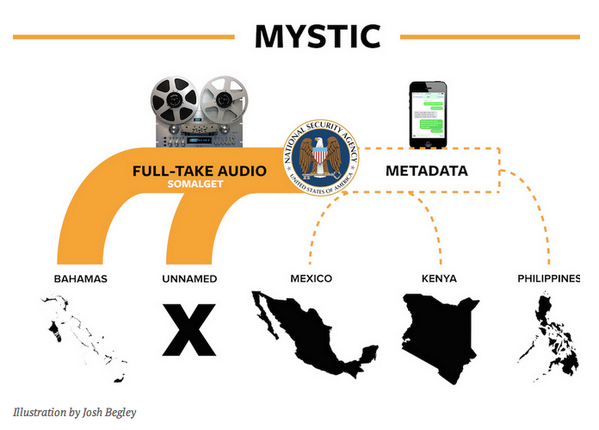 It is not known whether Julian Assange or Wikileaks have had access to Edward Snowden's documents to obtain knowledge of the mystery country.
The group's ability to release the identity of the second country remains to be seen and has sparked an online debate around the morality of releasing its identity if it could indeed "lead to deaths".