WikiLeaks reveals Blink-182's Tom DeLonge emailed Hillary Clinton's campaign about UFOs
DeLonge wrote to John Podesta at least twice on the subject of UFOs.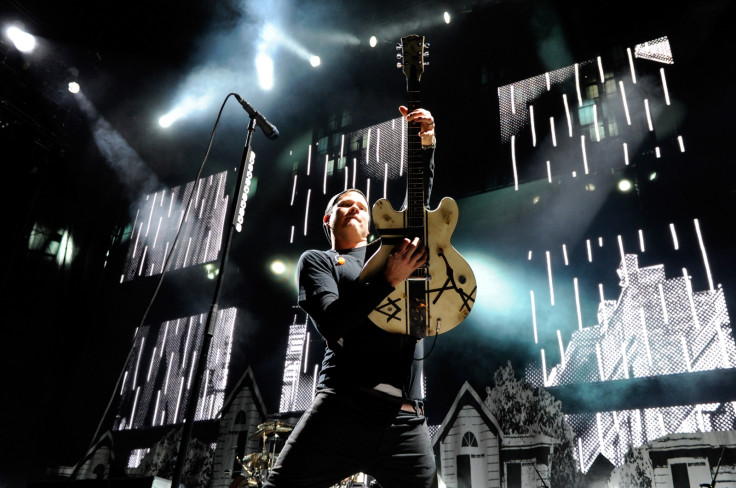 Former lead singer of popular pop-punk band band Blink-182, Tom DeLonge, reportedly contacted Hillary Clinton's campaign chairman John Podesta recently about UFOs, newly disclosed emails reveal. According to emails reportedly stolen from Podesta's personal email account and published by whistleblowing platform WikiLeaks this month, DeLonge wrote to Podesta at least twice on the subject of UFOs, the Wall Street Journal reports.
The emails also reveal that Podesta participated in a documentary produced by the Dammit singer. However, it is not clear whether Podesta responded to the emails.
DeLonge, who has been interested in extraterrestrial life and UFO phenomena for decades, split with the band in January 2015 to focus more on the subject professionally.
He later launched a multimedia franchise called Sekret Machines that aims to investigate unidentified aerial phenomena, government conspiracies and extraterrestrial contact.
Podesta, who has worked as a high-ranking official in the administrations of Bill Clinton and Barack Obama, has long been an extraterrestrial enthusiast and vocal about his interests in the topic.
After leaving his job as Obama's senior adviser, Podesta said last year that his biggest failure in the role was "once again not securing the disclosure of the UFO files".
In one of the emails from October 2015, Delonge suggests bringing two very important, "A-level" officials related to "our sensitive topic" to meet Podesta in person.
"I think you will find them very interesting, as they were principal leadership relating to our sensitive topic," DeLonge wrote. "Both were in charge of most fragile divisions, as it relates to Classified Science and DOD topics. Other words, these are A-Level officials. Worth our time, and as well the investment to bring all the way out to you.
"I just need 2 hours from you. Just looking to have a casual, and private conversation in person."
In a second email from January 2016, DeLonge writes that he has been working with former military official General McCasland who he says has inside knowledge of Roswell, the conspiracy theory that the US government recovered an alien spaceship crash in 1947 and covered it up. The military said the Roswell crash was a surveillance balloon.
"He mentioned he's a 'skeptic', he's not," DeLonge wrote. "He just has to say that out loud, but he is very, very aware — as he was in charge of all of the stuff. When Roswell crashed, they shipped it to the laboratory at Wright Patterson Air Force Base. General McCasland was in charge of that exact laboratory up to a couple years ago."
A third email sent at the beginning of 2016 shows that former astronaut Susan McCasland Wilkerson accepted an invitation from Podesta to an event called "DeLonge/Podesta Meeting".
In April, Podesta told CNN that the US government "could do a much better job in answering the quite legitimate questions that people have about what's going on with unidentified aerial phenomena".
DeLonge did not respond to the WSJ's request for comment.
Glen Caplin, a Clinton spokesman, did not respond to enquiries regarding the alleged emails between DeLonge and Podesta either. However, he accused the Kremlin of meddling in the US elections.
"It should concern every American that Russia is willing to engage in such hostile acts in order to help Donald Trump become President of the United States," he told the WSJ. He added that it was "disgraceful" that Republican rival Trump and his campaign were encouraging the hacks.
Meanwhile, WikiLeaks tweeted that "Podesta's UFO activities are disturbing".
The organisation previously promised to publish more documents "throughout the election period".
Democratic presidential candidate Hillary Clinton said earlier this year that she would open up the files on the mysterious Area 51, the air force base in Nevada that some people believe stores proof of extraterrestrial life, provided there is no threat to national security.
"If there is something there, unless it's a threat to national security, I think we ought to share it with the public," Clinton said. "If there is something there, unless it's a threat to national security, I think we ought to share it with the public."
© Copyright IBTimes 2023. All rights reserved.