Of the PR splurge which accompanies every new transfer at any of the Premier League's most polished media machines, the line in which a player cites the enormity of the club's size is perhaps most forthcoming.
The latest example saw Liverpool managing director Ian Ayre was last week revelling in Daniel Sturridge's move from Chelsea to Anfield, not least because the forward labelled his new side the biggest club in England.
Of course, Ayre's delight at Sturridge's albeit manufactured words is perhaps a sign of his own 'genuine' belief in Liverpool's credentials as England's premier club, but confirms the obvious notion that Britain's gargantuan sides often have the utmost influence of the country's rising stars, simply through prestige alone.
There remain other significant mitigating factors, not least prospective success, but away from Sturridge's endorsement of Liverpool, the natural move for a player seeking enormity and success over player development, is Manchester United.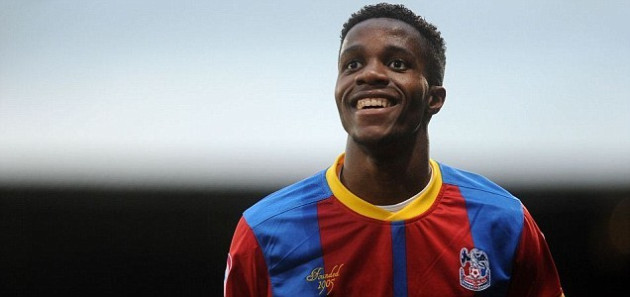 For Wilfried Zaha this appears to be, at the time of writing, his most likely destination. Crystal Palace are understood to have accepted an offer in the region of £15m, with the England international likely to return to Selhurst Park for the remainder of the season on loan to assist in their promotion attempts in The Championship.
Even at 20 years old, Zaha is at a crossroads in his career. Too good to remain at Palace in this footballing age, but such is his burgeoning talent the bigger clubs are already on the scent. Seldom do the Premier League's elite allow the Championship's brightest stars to get away, with the exception of Victor Moses, whom Chelsea paid more-than three-times as much as Wigan Athletic had 30 months previous for his services last summer.
As Shaun Wright-Phillips, Adam Johnson and Scott Sinclair will vouch, often a move to the Premier League's summit can have near-fatal consequences for your career with opportunities few and far between and a place in the footballing wilderness firmly established.
While United has rarely provided a destination akin to footballing obscurity, there is little evidence to suggest Zaha would have ample opportunity to make a significant contributions in his early years at Old Trafford; when he needs to be playing matches, not wallowing in the reserves. That factor might end-up outweighing the chance to working under one of the best man-managers in Sir Alex Ferguson.
The only other side to have made their interest in Zaha public are Arsenal. The Gunners have nor the financial power or the competitive status to compete with United for Europe's finest established names, but when it comes to the rising stars, the rate of progression under Arsene Wenger often proves to be the north Londoners' trump card.
Alex Oxlade-Chamberlain and Aaron Ramsey are among those to choose Arsenal over United upon a move from The Football League, where footballing development offsets trophy success. Wenger's ability to nurture players effectively isn't so much a trend, it's indeed common knowledge across the footballing fraternity.
We'll learn plenty, should a bid from Wenger arrive, about where Zaha's loyalties lie because while silverware and accolades are likely to come regardless, his influence in those successes will be dictated by his future decision.
It's true that Zaha has a wealth of options available to him but with United possessing resources aplenty he should be swung by Arsenal's healthy production line.