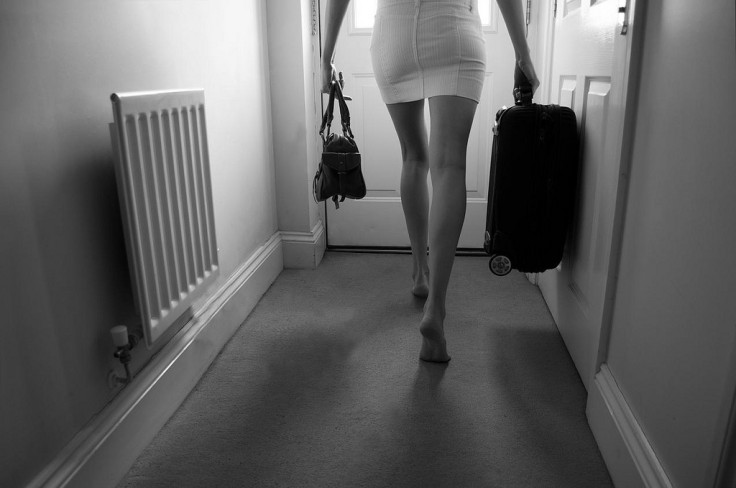 A mother of two has sparked fierce debate after seeking advice online when she found pictures her husband had secretly taken of her while she slept naked.
Writing on parents website Mumsnet the mother, who has been married for ten years, said the pictures were taken without her consent.
She said that her husband has been emailing the pictures of her to his phone, adding the images date back to 2015. The mother of two young daughters said she made the discovery on New Year's Day.
A number of users on the parenting forum recommended counselling for the husband, with one even calling for the mother to go the police. But others said they would not mind if their husband did the same, with one woman saying see would be "flattered" to find similar pictures of herself taken by her husband.
The distressed mother, writing on Wednesday (3 January) under the handle 'scoobysu', said she was no longer able to trust her husband, despite the "very happy" decade they had spent together.
She said: "I am so upset and spent last night crying myself to sleep. I honestly don't know what to do. I'm not sure I will ever be able to trust him again but I also don't want to break up my family as until now we have been very happy. What should I do?"
She added that when she confronted her husband he "apologised repeatedly and is begging for another chance".
One person wrote: "It is a crime, there was no consent and what if this is just the tip of the iceberg? I would be inclined to go to the police."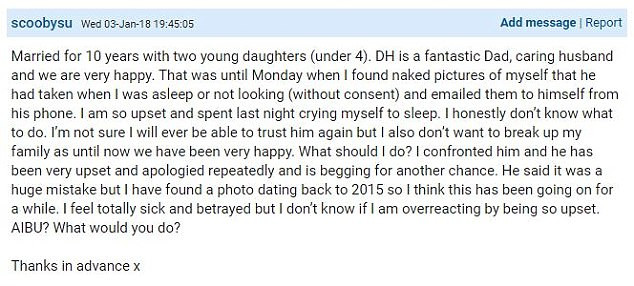 Another said: "It's a complete violation, a sexual assault, to take naked photos of someone without their consent."
But one user who was more supportive of the husband said: "I personally wouldn't be upset if my husband had done this, as long as the photos were for his eyes only."
Another said: "I think it my husband of ten years wanted naked photos of me, I'd be flattered (providing he wasn't sharing them) but, again he'd need my consent first."
The following day (4 January) the young mother came back onto Mumsnet, and thanked the users for their advice.
She said she and her husband had both taken the following day off work and talked through the problem. She added that as a result her husband had agreed to begin weekly sessions with a marriage counsellor next week.