John Cena and his wrestler girlfriend Nikki Bella are ready to welcome some new guests at their house for three months as the couple prepare for the October premiere of their reality TV show Total Bellas.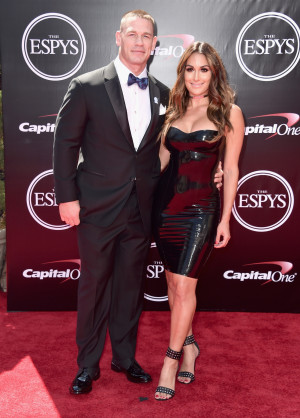 However, if the trailer for the upcoming E! series is any indication, the WWE wrestler seems to be a strict disciplinarian, who wants their guests – Brie (Nikki's sister) and Daniel Bryan – to closely follow the "house rules".
A E! News report mentions that in the trailer for Total Bellas, Nikki is seen inviting her sister and brother-in-law to live with her and John before the 39-year-old wrestling star goes on to lay down few rules.
"These are the house rules, it's very simple," John says adding, "Respect the house as if it were your own and if your habits are leaving towels on the floor, then change your habits and respect ours."
If this seems a bit too hard on the new guests, the wrestler-cum-actor goes on to elaborate on their family rituals and traditions.
"Formal dinner once a week, usually on Wednesday. Every morning we will have morning coffee together, we will have an evening fire outside. If you guys are gonna be up late, please text me or tell me. Do you have any questions?" John asks the couple in the sneak peek video.
How well these rules will go down with Nikki's family will be best answered when Total Bellas premiere on E! in October. Meanwhile, Brie seemed to have second thoughts about the "great idea" of moving in with Nikki and John. "Sometimes you think things are a great idea, and then when it really happens you're like, 'Oh s--t!'" she is reported as saying.
The new series, which is a spinoff of the Total Divas, will reportedly focus on the personal and romantic lives of the wrestler sisters Nikki and Brie. "It's basically a show about Brie and I and our family, more about our life outside the ring," Nikki said in an old clip adding, "You get to see my surgery up close and personal."
"You get to see Bryan's retirement up close and personal," Brie quipped.
Catch the premiere of Total Bellas on Wednesday, 5 October at 8pm EST on E!