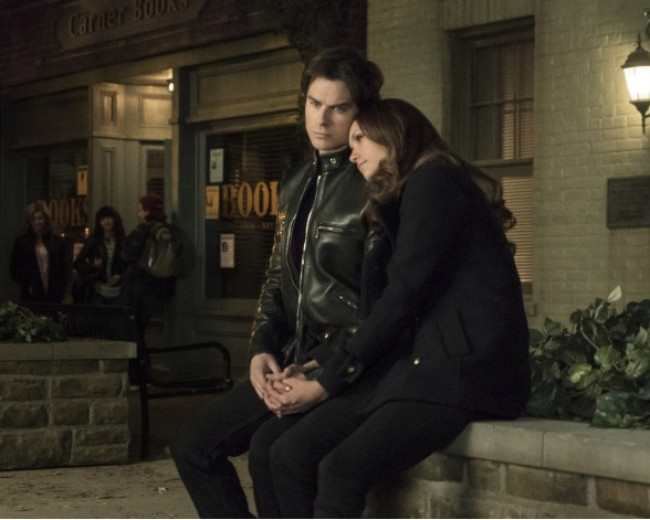 The final season of The Vampire Diaries is all set to premiere on Friday (21 October) and fans are hoping to see the reunion of Damon Salvatore and Elena Gilbert for one last time. Though Nina Dobrev has never really affirmed the rumours of her comeback to the popular CW series, show producer Julie Plec gave a major hint of her return.
"Elena has a very strong presence this season, in the entire season, similarly to how she did last year," she told TV Line. However, she avoided answering the question of Dobrev's physical presence in Vampire Diaries season 8.
"We set up at the end [of Season 7] that Stefan had kept up with writing in the journal to keep [Elena] up to speed with everything they've been going through. We really keep that up at the beginning of the season. Everyone has their turn telling their stories in the journal. With that, we've gotten to both keep Elena's character alive, but also return to the nostalgia of Season 1 when 'Dear diary' was a thing," Plec added.
Click here to watch the episode live online.
The seventh season ended with Damon and Enzo trapped in the Armory vault but when Stefan force opened it, he did not find anyone inside. Episode one of season 8 will jump a few months ahead and fans will see the elder Salvatore brother on a killing spree along with his partner in crime — Enzo.

The younger Salvatore vampire vows to save his brother from the devious trap of the Armory vault and free him from his demonic thirst for the blood. Hence, he will seek the help of Bonnie in this. According to the synopsis, Caroline and Alaric will have their fair struggle while battling an unknown entity that poses a major threat to their twins.
Here is the official synopsis:
The eighth and final season of The Vampire Diaries premieres on Friday at 8pm CT on The CW.