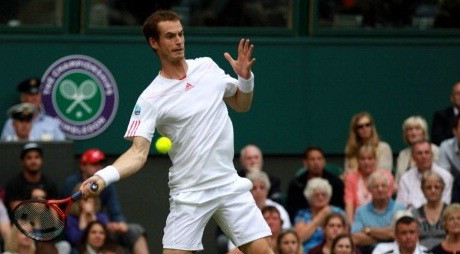 Andy Murray came up with a dominating performance to pummel former world number three Nikolay Davydenko in straight sets on Tuesday to kick off his 2012 Wimbledon campaign.
Murray was in sublime form and did not make a single unforced error in the first two sets. The fourth seed tallied 10 aces and six service breaks en route to a 6-1, 6-1, 6-4 victory over the Russian in 94 minutes.
The 25-year-old took control from the start of the match and though he could not quite keep his level in the third set, it was more than good enough to see off Davydenko as the Scot completed the match without facing a break point.
Murray took a 4-1, double-break lead in the opening set and followed it with a 3-0 lead in the second. He continued his upper hand to go ahead 2-0 in the third set and after missing two match points at 5-3, Murray closed the set in the 10th game as Davydenko missed the return.
The world number four ended the evening with 27 winners and just six unforced errors. And he left viewers a little mystery too, pointing his index fingers at the sky as he came off the court.
"It's something for me and the guys that I work with. I don't really want to go into too much detail because I'll end up getting asked about it every single day," The Guardian quoted Murray as saying.
Expectations regarding Murray's title chances looked a little low this year, with the player not in his best form, while the likes of Novak Djokovic and Rafael Nadal are dominant as ever. But with this performance, Murray showed himself to be a genuine contender for the title.
"The first two sets were very good. I got a great start and then relaxed. Since Queen's [where he went out in the first round] I've been itching to get going. I've got to be ready for the next match, potentially against Karlovic; there's very little rhythm in a match like that. I probably settle into matches here a bit quicker than I used to. It's never easy playing at Wimbledon in the first round," he pointed out.
Murray will take on Ivo Karlovic or Dudi Sela in the second round.