Andy Murray can't remember playing the points that won him Wimbledon, he admitted.
The 26-year-old Brit ended 77 years of hurt for the UK by lifting the trophy in SW19, making him the first Briton to do so since Fred Perry.
He demolished world number one Novak Djokovic in straight sets; 6-4, 7-5, 6-4.
But he made 15,000 fans on centre court bite their nails as the final game dragged on, going back and forth from deuce to deuce.
Murray won it with his fourth match point.
Afterwards he admitted: "I've no idea what happened. I don't know how long that last game was. That's how well I was concentrating."
Murray acknowledged how important for UK fans at the court and at home his historic win was.
"I understand how much everyone wants to see a British winner, so I hope you guys enjoyed it. I tried my best."
The Scot got so carried away with celebrations that he emulated former winner Pat Cash by clambering up to where his team was watching in the stands.
But he initially forgot to hug his mum after hailing his team, who drove him to Wimbledon glory.
"I just heard her squealing behind me when I went to go down," Murray said of mother, Judy.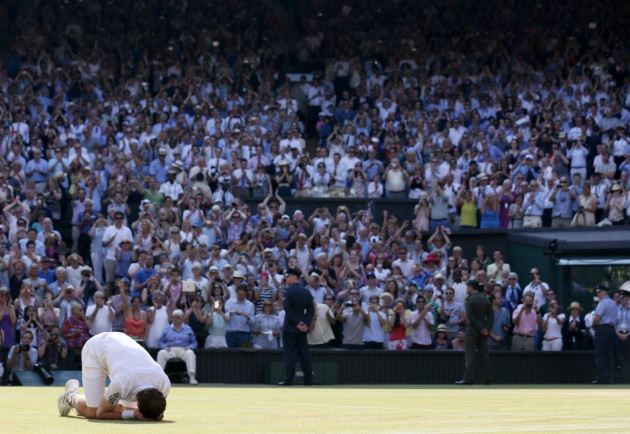 Hailing his team, he said: "They've been through everything with me. I've got a great team and they've stuck by me through a lot of tough moments."
Murray was delighted to bury memories of last year's Wimbledon defeat to Roger Federer, when he burst in to tears afterwards.
"It feels slightly different to last year. Last year was one of the toughest moments in my career so to manage to win the tournament this year. It was such an unbelievably tough match with so many tough games.
"I don't know how I managed to win that last game from three match points.
"I'm just so glad to finally do it. I've play many times and when everyone's finished he's going to go down as one of the biggest fighters as he's come back so many times from losing positions. He almost did the same again, but I just managed to squeeze through this time."
Beaten Djokovic congratulated Murray on his win. The Serb fought valiantly in the final game, fighting back from three match points. But the fight finished when he fired a shot in to the net.
Speaking with the runner-up's plate in his grasp, Djokovic said: "It wasn't enough. Congratulations to Andy, he absolutely deserved this win
"Congratulations to his team, I know how much it means to them and to all you guys [British fans] too in the whole country. I'm aware of the press he gets, so definitely there's a lot of expectation."