Live coverage of Microsoft's launch of Windows 8, the company's biggest and riskiest launch in a long time, along with the launch of the flagship Windows 8 hardware, the Surface tablet.
Key Points
Windows 8 launch

Surface tablet launch

Laptops, PCs and tablets from the likes of Samsung, Asus and Dell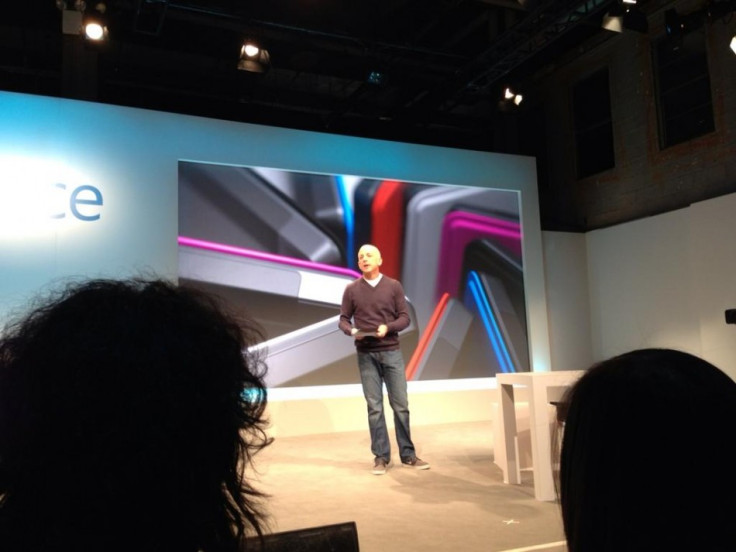 7:15pm: While it may not have been packed with new announcements, at least it was mildly entertaining, and that's more than we can say for the Windows 8 announcement. Thanks for reading folks, and stay tuned for lots more Windows 8 news and reviews in the coming weeks.
7:13pm: "The reimagining of hardware and software together" says Sinofsky as he signs off.
7:12pm: And that's it from Panos, Sinofsky back up saying the Surface is the best laptop he's ever used and the best tablet he's ever used....big claims.
7:10pm: Now showing off digital camera plugging straight into USB port....
7:06pm: Showing off multi-tasking on Surface, where you can record a meeting or lecture while taking notes in One Note. Looks really slick.
7:05pm: Panos says there is a learning curve getting used to typing on the Touch Cover, which he says take four or five days to get really comfortable.
7:02pm: Apparently all the presentation using Excel and Powerpoint is being done with a couple of Surface tablets - including the lighting.
7:01pm: And here it is. Panos is onto talking about the Touch Cover. "You can get stuff done." We knew everyone needed a cover for their device, but didn't want it to be clunky. Microsoft use a "flux fountain" of magnets into the connectors which connect Surface with cover.
7:00pm: Panos focusing on real-world usage so far. No mention of keyborad cover so far.
6:56pm: Now onto talking about the kickstand, which opens and closes like the car door of a luxury car door. Kickstand also allows for front-facing camera to be orientated at the perfect angle for video calling.
6:55pm: Away from Panos' hilarious stories, in more important news, the first ever Surface tablet has been sold in China.
6:53pm: Another "funny story" from Panos, about Steven Sinofsky using Surface as a skateboard.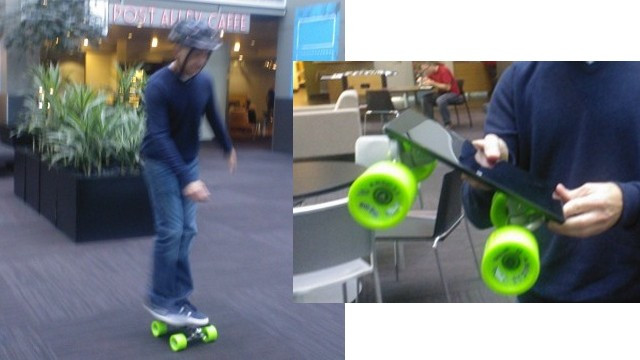 6:48pm: Now talking up thwe VaporMg finish and thin glass cover. Now Panos has dropps it from around five feet onto the gound to show its toughness. Surface still working.
6:47pm: Now showing off SmartGlass app, letting him share a movie and music between his tablet and an Xbox console with the touch of a single button. Pretty slick implementation. Challenger to AirPlay from Apple.
6:46pm: Panos, in a remarkalbe condecending voice, tells the audience of analysts and technology reporters what contrast means....
6:44pm: Panos is now telling us a "great story" about connecting to wireless networks on the roof of his hotel, becasue you know, that's where we all connect to our wireless networks.
6:43pm: Microsoft Surface design team member Panos Panay now talking up battery life of the Surface.
6:42pm: Showing off 64GB microsSD card, which slots into the Surface just behind the kickstand, giving a possible total of 128GB along with in-built storage.
6:41pm: Now talking about the design heritage of Surface. 10.6in screen is not something you pick off a production line. Why put so much effort into the design of it? "So it will feel great" Ha?
6:40pm: Microsoft Surface is the "ultimate expression of Windows" according to Sinofsky. Now showing the first Surface ad which focuses on the clicking sound made when attacking the Touch Cover apparently.
6:34pm: And Steven Sinofsky is back.....
6:33pm: Microsoft are late to the party. But there is a skateboard on stage according to Tom Warren, which indicates the presentation might just be a little more fun than the Windows 8 one earlier.
6:23pm: Microsoft may have announced nothing new at the Windows 8 event earlier, but at least Amazon did, taking the opportunity to launch its Windows 8 app, which is now free to download from the Windows Store. Much like the iOS and Android app, the Windows 8 version will give users access to their Kindle library, as well as the ability to purchase from a selection of 1.5 million books. It also announced that Acer, Asus, Dell, HP, Lenovo and Samsung would be pre-loading the app on their Windows 8 devices.
5:59pm: It looks like the stock market is taking little or no notice of Microsoft's big announcements. MSFT stock is currently 0.03 percent up since opening, or just 1¢ per share.
5:13pm: And that's a wrap. We'll be back in an hour for the Microsoft Surface keynote.
5:12pm: There are 670 million PCs out there that can be upgraded to Windows 8, according to Ballmer.
Interesting that in a slide of all Windows 8 PC makers, the Microsoft Surface is at the end, with no extra attention drawn to it.
5:11pm: Ballmer said "developers".
5:08pm: Talking about SmartGlass now, we like that a lot. Great way to combine your tablet and Xbox into an entertainment centre with second screen. And now Windows Phone 8, and how it's interface is similar to the tiled look of Metr...Start screen. More on WP8 on Monday.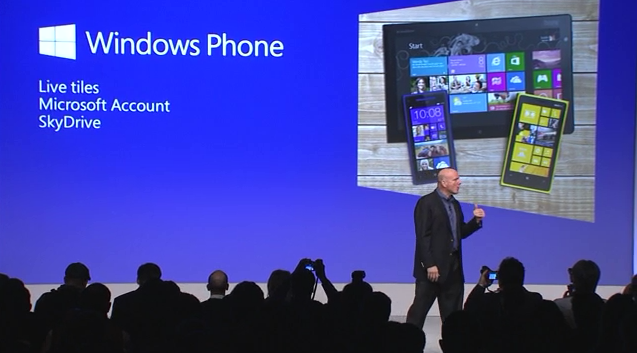 5:05pm: Ballmer's really hitting home how the new Microsoft ecosystem combines everything you could ever need. Office, Bing, IE, outlook, SkyDrive, Skype, Xbox...all brought together. Oh, and MSN.
5:02pm: Ballmer running through all of WIndows 8's major new features and how it fits inw ith your life ad your stuff in the cloud, your Microsoft account being the key. "You see the device light up with your life," Baller says.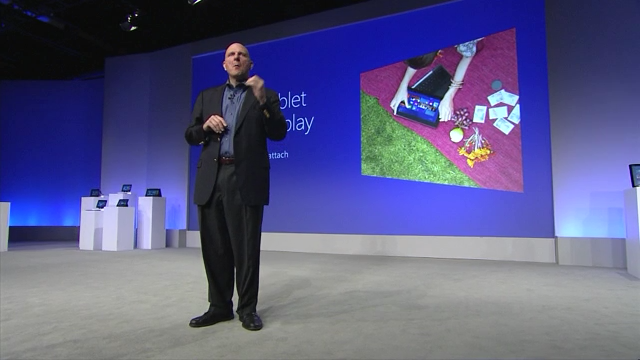 All contacts, photos, Facebook, documents etc will all be available from SkyDrive the moment you log in to Windows 8.
"Windows 8 PCs are the best PCs ever," and Ballmer claims that Windows 8 works just as well with a keyboard and mouse as it does with a touchscreen interface. "Windows 8 brings together the PC and tablet, your work life and play," into one device with the greatest qualities from both the PC and tablet.
Nothing new here at all yet...
5:00pm: Next up (after another advert full of happy PC users, obviously) it's Microsoft CEO Steve Ballmer. He's "excited"...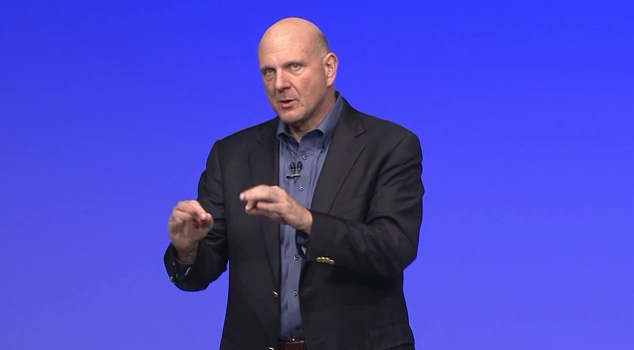 4:55pm: "Windows 8 is a great gaming platform, but when you go to the store there is so much more". Feeling a lot like a shopping channel at the moment.
Showing off the Samsung Ativ Tab, an Asus tablet and the Microsoft Surface tablet, which we will see more of later.
4:52pm: Now we're being shown how the Windows Store can be used to download new apps while you're watching a video. One-click app downloading is of course included (for free apps, anyway). Uninstalling is a one-click affair too, so hunting around to delete all of it.
4:50pm: Mike admits that "this is like a commercial here". Yes, yes it is. Anyway, We're being shown loads of new touch-screen Windows 8 hardware, ranging from tablets, to laptops and all-in-one desktops.
Our top ten Windows 8 computers to look out for can be found here.
4:45: Quick flash of the HTC Windows Phone 8X smartphone, coming soon, after MS's Windows Phone 8 launch event on Monday, which IBTimes UK will be attending.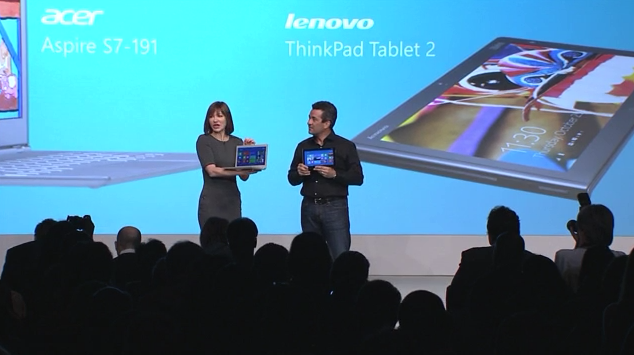 4:40pm: More Windows promotional video time, song choice "We Always Have Fun" as Mike Angiulo and Julie Larson-Green take the stage to show off a Samsung tablet.
Settings being shown off now...how to change the lock screen and wallpaper.
Woop alert - first cheers from the audience were for Windows 8 booting up quickly.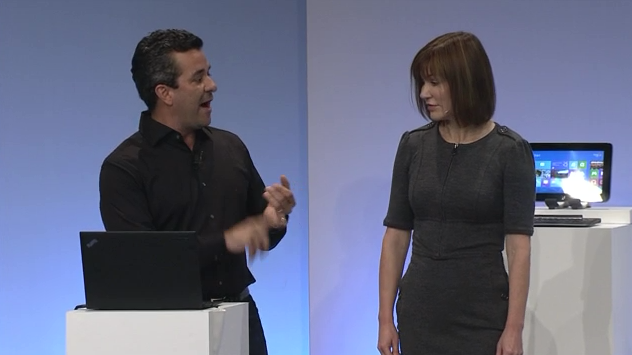 4:35pm: Some small digs at Apple here, saying Windows developers have the biggest audience and the most freedom with what they develop. From today (midnight, anyway) the Windows Store is open in 231 markets and 109 languages around the world.
Windows Store has more apps than "any competeing app store at its opening"
Now we're hearing about Windows RT (Run Time), which is build specifically for devices with ARM processors.
Microsoft is explaining that, despite the different name and processors, Windows RT hardware will work with loads of hardwar, such as 50 of the top 53 printers globally. Which is nice to know when you need to print that 5,000 essay you wrote on your new Surface.
4:32pm: Microsoft says that oday we are at the start of a new era of interaction for our PCs - talking here about touch inputs through the display. But the desktop, as we're all used to, remains.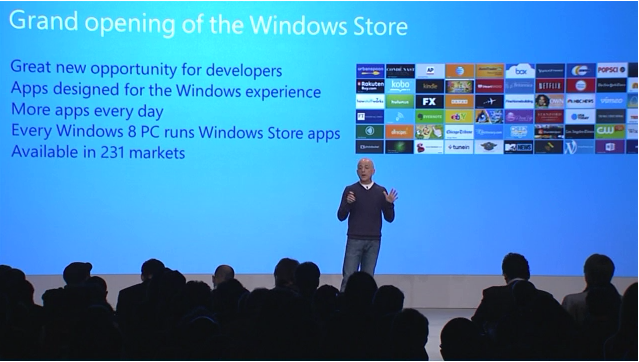 A 'how to' guide will be offered to every new Windows 8 user when they first log on, to help make sense of the Metro (sorry, Start screen) user interface and all of the new touch gestures.
More than 1000 PCs are already certified for Windows 8, and many are under $300.
4:30pm: Three product announcements today - how current Windows can upgrade to Windows 8, Win 8 products, and Windows RT products.
When you upgrade from Windows 7 to 8, Microsoft claimes up to 13 percent improvement in battery life, and memory usage reduced by up to 22 percent, and new hardware will cold-boot into the OS in less than 10 seconds. Windows upgrade is available from 00:01 tomorrow (local time) either online, or in stores.
4:25pm: We're being given a brief tour of the history of Windows, and how Windows 8 came to be.
4:25pm: SkyDrive - Microsoft's cloud storage service - has more than 300 million users, who have used the service to store more than 14 petabytes of data.
4:20pm: Microsoft's Steven Sinofsky is on stage telling us how Windows 8 is both an evolution and revolution in computing. Windows 7 has sold over 670 million liceses to businesses and consumers so far - the fastest adoption of any OS in business ever.
4:18pm: And we're off... Microsoft has kicked the keynote off with an advert showing off Windows 8 with clips of keynotes over the past year. Lots of happy people loving their computers and inspirational music, obviously.
4:10pm: Five minutes to go now and we're all hoping for one of Steve Ballmer's 'trademark' keynotes...
Remember, this first keynote is all about Windows 8, then another conference will begin at 6:30pm London time to talk about the Microsoft Surface.
Tech writer Richard hay has just tweeted this picture from the back of the conference hall.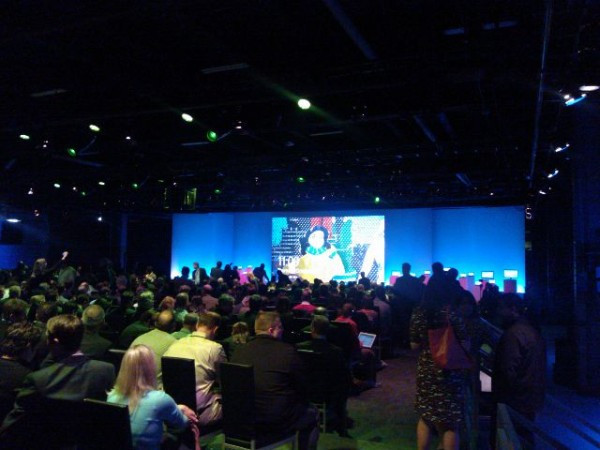 3:56pm: Journalists are filing into the conference centre now, where the keynote is due to start in around 15 minutes. In the meantime, we're being greated to a slideshow of Windows 8 lock screens.
3:45pm: We're hearing that Windows fans are already queueing up outside the Tottenham Court Road branch of PC World in London, where Microsoft Surface and Windows 8 will go on sale at midnight.
We're not expecting too many surprises from the events today, although more information - like a price and release date - for the Surface Pro would be welcome.
Otherwise, we're expecting Microsoft CEO Steve Ballmer to announce that Windows 8 is finally available, alongside the Microsoft Surface running Windows RT, and a whole host of new products from the likes of Acer, Samsung, Dell, Asus, Sony and more.
3:40pm: Journalists are starting to show up at Microsoft's New York press event, with Slashgear posting the photograph below: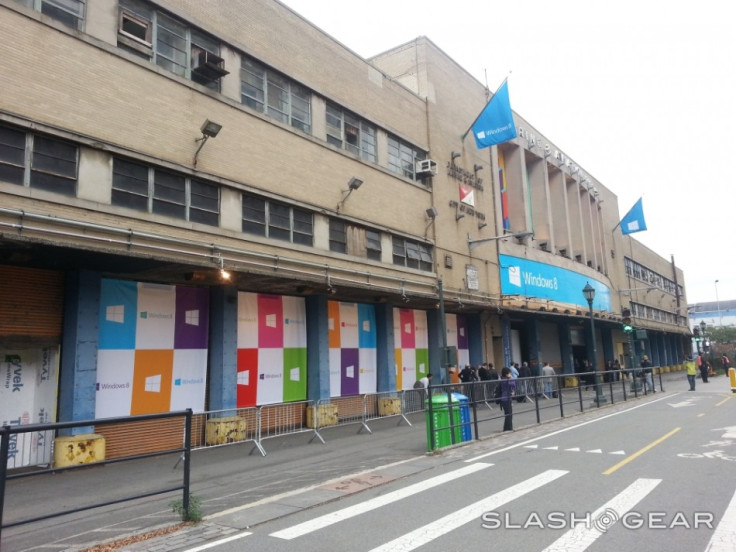 3:25pm: It's just over half an hour to go before Steve Ballmer offically takes the wraps off Windows 8 - a complete reimagining of Windows 8 for the post-PC era, focusing more on touch, tablets and hybrid laptops.
Along with the launch of Windows 8, Microsoft will be officially launching the Surface tablets, which is first announced earlier this year.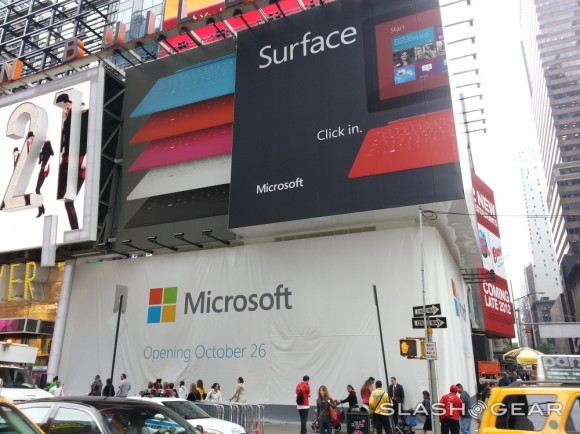 If you are a little confused about Windows 8, make sure you check our article detailing everything you need to know about Windows 8.
Must Read:
Windows 8 Launch: Microsoft Surface Reveiw Round-up
Windows 8 Launch: Strict Restrictions Will Affect Games Development
Windows 8 Launch: Samsung Betting Big on Business on Windows 8