Wine producer warns Britons could 'starve' without migrant fruit pickers
Frazer Thompson, chief executive of Chapel Down, says continued access to European labour after Brexit is crucial.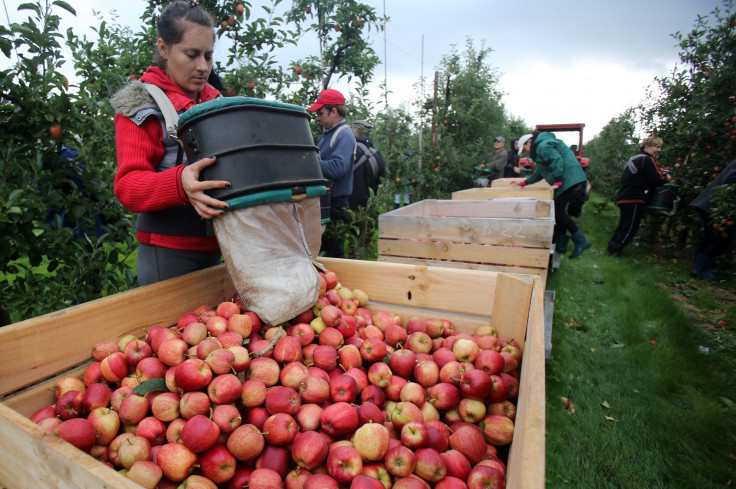 Britain could "starve" after it leaves the European Union as there are not enough local workers to replace the migrant fruit pickers in the horticulture industry, England's leading wine producer has said.
Frazer Thompson, chief executive of Chapel Down, told Press Association that continued access to European labour after Brexit is crucial so that tonnes of fruit do not go to waste in farms across the UK.
Most UK fruit and salad growers rely on migrant workers to harvest their crops, mainly from eastern European countries such as Romania and Bulgaria.
The National Farmers' Union estimated that there was a 29% shortfall of seasonal workers in the UK horticulture industry in September, with recruiting foreign workers becoming increasingly difficult due to the uncertainty created by Brexit.
"The biggest potential impact [of Brexit] is on agricultural labour," Thompson said. "Kent has had eastern Europeans picking fruit in recent years, but we'll all starve if the labour issue is not sorted after Brexit.
"We want a resolution to allow us to have freedom of movement for labour to pick the fruit, this is something that affects all fruit farmers across the south east of England.
"I'm hoping it will be sorted out and I hope they won't close the doors, as if there's no-one to pick the fruit, we'll have to import everything."
Prime Minister Theresa May has signalled her intent to clamp down on immigration from the EU after Brexit, arguing that doing so would help protect UK wages.
EU citizens are currently free to live and work in Britain without a permit.
A Home Office spokeswoman told PA: "We remain committed to bringing down net migration to sustainable levels.
"We have already been clear there will be an implementation period after we leave the EU to avoid a cliff edge for businesses and that EU citizens already working in the UK will be able to apply for settled status so they can stay."