Wingsuit explorer Joby Ogwyn is planning to be the first man to jump off Mount Everest.
The Lousiana born daredevil is already the world record holder for climbing Everest from the base of the route to the summit in just nine and a half hours.
His 11,000ft jump will happen in May and will be shown live in more than 200 countries. It will appear on the Discovery Channel, which previously showed Felix Baumgartner's freefall from the edge of space in 2012, and Nik Wallenda's tightrope walk across the Grand Canyon in 2013.
Ogywn will use his body to steer his nylon wingsuit during his 150mph descent, avoiding the jagged cliff faces, down to his landing point at base camp.
Ogwyn said: "I will visualise the jump in my mind a thousand times before I do it. The last thing I will say is probably 'A little help God, that'd be great.' Five to 10 steps and then I'll be out of there. It will be a running jump.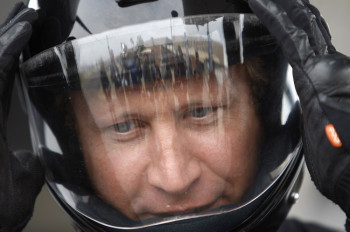 "The biggest challenge will be launching off. Altitude and cold could affect the wing-suit and I have to be a little lucky with certain wind conditions."
He will be accompanied by a 40 member team to the base camp at 17,800ft, and four high altitude cameramen will join him on the three day trek to the summit at 29,035ft.
Ogwyn added: "Hopefully we get to the top and we have a really good chance if we're lucky with the weather, then it should be no problem, but this is a very, very big, very sophisticated big project with a million different moving parts, it's like a shuttle mission in a lot of ways. There are so many things that need to go right and so many things that could go wrong. So in that way it's a real adventure. And one that we will ride out until the very end."
Ogwyn has made preparation in case he is blown back into the side of the mountain, or if he could be swept into China.
"I'm prepared for landing in China," he said. "I will definitely have some cash and my passport in my wingsuit."
He will not be wearing a traditional parachute but he will have a new piece of equipment designed specifically for such a high altitude jump.
His Italian wife Flaminia, 34, will be watching on television.
"She probably worries about me like any good wife," said Ogwyn. "She freaks out every once in a while, but she knows I'm conservative in my approach and I will make the right decisions. My goal is, no matter what, to come back and spend the rest of my life with her."