North Korean cheerleaders attending the Winter Olympics in South Korea have sparked a row by donning face masks appearing to represent Kim Il-sung, the first leader of North Korea and grandfather of current ruler Kim Jong-un.
The masks, worn by the the cheerleaders during a women's ice hockey match, prompted accusations from conservative groups in South Korea that Kim Jong-un's regime is using the games as a propaganda exercise.
South Korea's Unification Ministry played down the incident, claiming the mask was simply of a "good-looking" man.
The game, between the joint Korean team and Switzerland, was a high-profile affair. It was attended by several VIP guests including South Korean President Moon Jae-in, International Olympic Committee President Thomas Bach, the sister of the North Korean leader Kim Yo-jong and its ceremonial head of state Kim Yong-nam.
Somewhat spoiling the narrative, the game ended in an 8-0 victory for the Swiss team.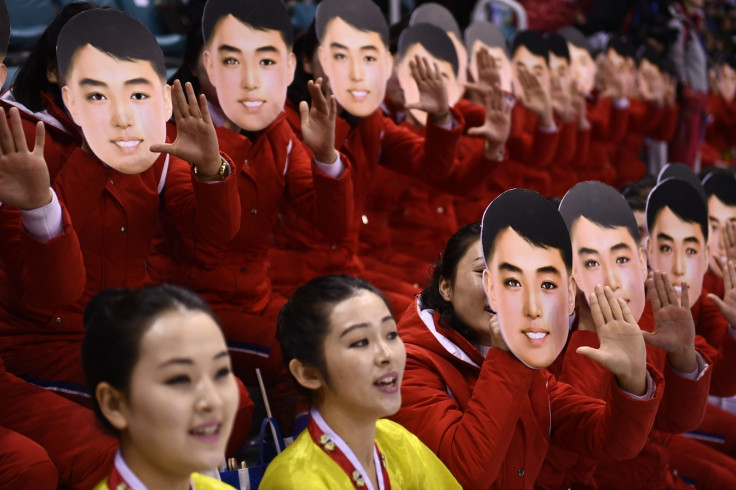 In response to the reports, the Unification Ministry stated, "After checking with a North Korean official at the scene, it has been confirmed that there was no such meaning whatsoever, as assumed in the report."
Back Hye-ryun, a spokesperson for South Korea's ruling Democratic Party, said, "Considering the North Korean system and culture, it is impossible to use Kim Il-sung's face – which is held in the highest dignity – for cheering for their team."
The 230 North Korean cheerleaders – dubbed the "army of beauties" in South Korea – have been a hit at the games with their synchronised songs and dance routines. They are selected from prestigious universities based on their "appearance and ideology", The New Yorker reported.
There have been fears in South Korea that the North Korean state would attempt to hijack the Winter Olympics for propaganda purposes, following its team's late inclusion.
The surprise agreement to include a North Korean team represents an apparent warming of relations between the two Koreas. It comes after a year of high tensions on the peninsula, as US President Donald Trump and Kim Jong-un repeatedly threatened one another with military action over North Korea's continued weapons development programmes.