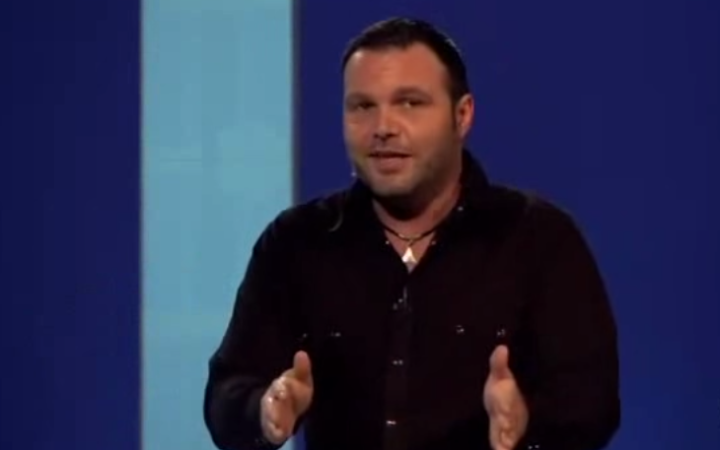 Mars Hill Church Pastor Mark Driscoll has often caused outcry for his controversial statements, which have prompted members of his community to call for his removal.
Earlier this year, the pastor was accused of paying a marketing firm to manipulate sales figures of his book Real Marriage.
Following the controversy, Driscoll announced he would take a sabbatical, as an investigation into his conduct is ongoing.
The investigation is due, among the other things, to examine several of Driscoll\'s public statements which caused the outrage of hundreds.
Here are five of his most controversial declarations.
Wives are homes for penises
In 2001, he wrote on a church discussion online forum, under the pseudonym of William Wallace II, that women are homes for penises.
\"Ultimately, God created you and it is his penis. You are simply borrowing it for a while,\" he said, and then explained that as the penis is homeless it needs a home.
\"God created a woman to be your wife and when you marry her and look down you will notice that your wife is shaped differently than you and makes a very nice home.\"
A pastor\'s wife might be blamed if her husband has a homosexual affair
\"It is not uncommon to meet pastors\' wives who really let themselves go; they sometimes feel that because their husband is a pastor, he is therefore trapped into fidelity, which gives them cause for laziness,\" he said.
\"A wife who lets herself go and is not sexually available to her husband in the ways that the Song of Songs is so frank about is not responsible for her husband\'s sin, but she may not be helping him either.\"
Masturbating means you\'re probably gay
\"Masturbation can be a form of homosexuality because it is a sexual act that does not involve a woman.
\"Any man who does so [masturbate] without his wife in the room is bordering on homosexual activity, particularly if he\'s watching himself in a mirror and being turned on by his own male body.\"
I saw women being raped but I wasn\'t there
\"It\'s supernatural. It\'s a whole other realm. It\'s like The Matrix,\" he explained.
\"You take the blue pill or you can take the red pill. You go into this whole other world.. I\'ve seen women raped. I\'ve seen children molested. I\'ve seen people abused. I\'ve seen people beaten. I\'ve seen horrible things done... I wasn\'t present for any of it, but I\'ve seen it visibly.\"
Don\'t date someone who is not Christian
\"If you are dating someone and they are not Christian, don\'t even start... If you believe in Jesus and they don\'t, it\'s not going to be a good marriage.\"