A woman died when a large eucalyptus tree toppled on a wedding party which was taking photographs at a Southern California park on Saturday (17 December).
A four-year-old girl was in a critical condition with severe head injuries while several other people were trapped under the tree.
The group had lined up for a photo when the tree fell, landing on those underneath. Some were able to free themselves while others were rescued by firefighters, according to officials.
Video footage from the incident, which happened at Whittier's Penn Park, shows emergency teams and fire crews working at the scene, using chain saws to cut through the branches.
Search dogs were used to scour the area to ensure that no other people were still trapped under the tree.
Eyewitnesses report hearing a loud crack and several people running from the area. It's believed the tree may have been weakened by California's drought and heavy downpours.
A witness said the tree had fractured into two before it gave way and collapsed, landing on several of the wedding guests. One of the party, identified as an older woman, died on the way to hospital, KTLA reported.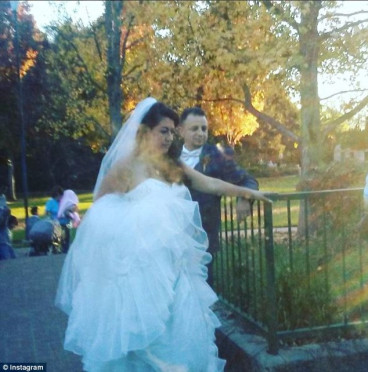 A report of the accident came into emergency services around 4.45pm and the Los Angeles County fire department arrived at the scene soon after, with around 100 firefighters responding to the emergency.
Anahi Vazquez was visiting the park with her family when the tree collapsed. "We just heard something crack, like, really hard, and people were yelling," she said.
Witness Gilbert Duran wrote on Facebook that he and some friends were under the tree taking photographs shortly before it fell, but moved to a different location for better light. The wedding party then moved under the tree.
"We walk away and five minutes later this thing collapses on a whole wedding party," he said in a video posted on Facebook.
" I just seen a bunch of kids, little kids… they were running for their life and this thing just fell on top of them. I watched them go flat."