Jihadists Recruit Women for Frontline Terrorist Attacks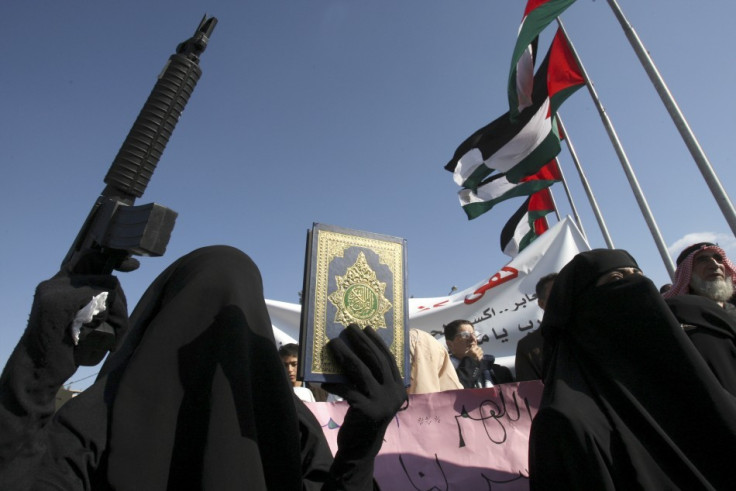 A video showing women in burqas at a weapons training camp in Pakistan is believed to be part of a recruitment drive by militant groups to attract women to play a more active part in 'global jihad'.
The 60-second video clip was sent to the Sunday Times and shows five women being trained to use AK-47 assault weapons and fire rocket-propelled grenades.
The setting for the footage is believed to be in the Waziristan region bordering Afghanistan, which has become a safe haven for the Pakistani Taliban, Al-Qaida and other militant groups.
A pale blue flag with a white crescent indicates the women belong to the Turkistan Islamic party, a terrorist group thought to have links to the Pakistan Taliban.
The burqa-clad women seemed to be in the early stage of their training, said security officials.
In April, the same group released a similar video of boys, some as young as six, being trained to fire handguns.
The Site Intelligence Group - Search for International Terrorist Entities - has received similar video. "The overarching message in the video was 'here are women fighting, where are you men?'" Adam Raisman, a Site analyst told the Sunday Times.
"It was a way to emasculate those Muslim men who do not participate in jihad," he added.
The portrayal of women in an active combat role could mark a shift in Jihadist propaganda, says Bill Roggio, a terrorism expert at the Foundation for the Defence of Democracies, a US think tank.
In Quetta, Pakistan, a female suicide bomber detonated a device last month on a bus, killing 14 female students.
The sectarian extremist group, Lashkar-e-Jhangvi (LeJ), which has known links with al-Qaida, claimed credit for the attack.
"We know they run suicide training camps for women and children," said Roggio. "There have been six or seven suicide attacks in the Afghan-Pakistan region since 2010. Prior to that there were none."
The Tehrik-e-Taliban, LeJ and the Islamic Movement of Uzbekistan have used female bombers on six other occasions since December 2010 to hit targets in Pakistan.
They have established training camps in Waziristan that are used to indoctrinate and train female bombers.
Qari Ziaur Rahman, the Taliban and al-Qaida leader who operates from Pakistan's tribal agencies of Mohmand and Bajaur and in the Afghan provinces, is known to run most of the training camps for suicide bombers.
A female suicide bomber carried out a bus bombing in Quetta, Pakistan, killing women students
© Copyright IBTimes 2023. All rights reserved.