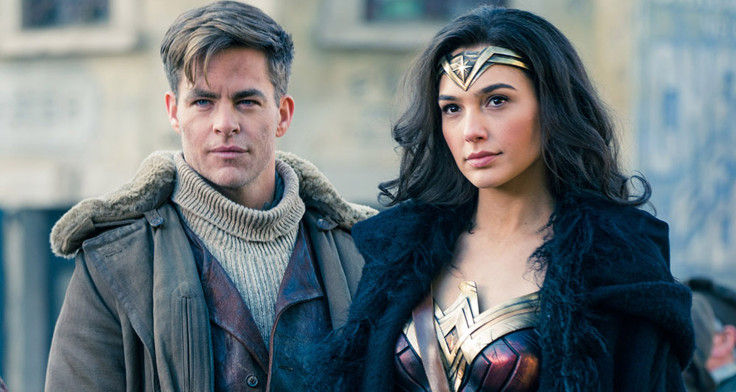 Chris Pine has fuelled the Marvel vs DC debate by poking fun at Avengers: Infinity War while promoting his upcoming movie Wonder Woman. Pine stars as an American pilot, Steve Trevor, alongside Gal Godot's Diana Prince in the movie.
In an interview with Screen Slam, the 36-year-old actor was asked about the number of superhero movies floating around and why he chose to do this movie. He told the outlet, "One of the reasons for sure. She, in particular — Patty [Jenkins] was a great reason why I wanted to be involved. I met her, I hadn't read — there was no script. Then she told me what she wanted to do: the story, my character, and Gal's character."
He then took a dig at Marvel's upcoming Avengers movie, titled Infinity War. The Star Trek Beyond actor said, "I, like you [the interviewer], agree that within this genre, it's difficult to do something new, and usually, you just see a bunch of people killing one another — in outfits and blowing up cities. Like, I know there's a thing called Infinity War, which is like, I don't — really, like, Infinity War? We need more war for all time?"
Fans are not thrilled with Pine for throwing a shade at the Marvel movie. A user pointed out on Twitter, "You can tell Chris Pine has never read a comic let alone the Marvel Infinity War comic..." Another fan noted, "Chris Pine gotta look up what Infinity War is before he tries to drag a studio/movie lmao. I love the dude, but that was such a Who's Mans?"
A user pointed out sarcastically that Wonder Women is set in World War background, and wrote, "Chris Pine dissing infinity war but...ww is...ok nevermind." Another noted, "Ppl talking about Chris Pine throwing shade. Yeah he name drop infinity war but its also shade at DC."
A Comic-book fan asked Pine to check Infinity wars comics before saying anything. "Don't expect Chris Pine to be a comics expert bc he's in one comics film but JFC maybe take 2 secs to google what Infinity War IS b4 u speak," he wrote.
Wonder Woman arrives in theatres on 2 June, while Avengers Infinity War is set for release on 27 April 2018 in the UK and 4 May 2018 in the US.