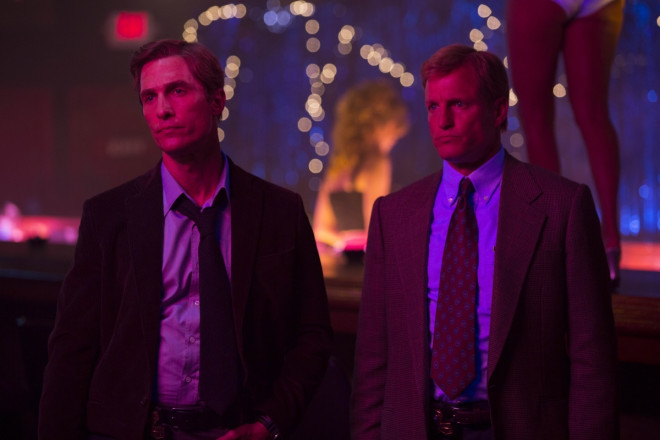 True Detective star Woody Harrelson's career was saved by his basketball skills, reveals the actor in an interview about the hit new HBO TV series.
The 52-year-old former Cheers star has been winning plaudits for the new detective series, as well as just about everyone else on the show – including co-star Matthew McConaughey. Speaking with Metro about the show, Harrelson also revealed how he couldn't get a job following Cheers – the hit US sitcom which ended in 1993.
"I thought: 'I'm going to be Woody Boyd forever.' That was okay but I thought I was capable of more," said the actor. "It was really White Men Can't Jump that changed things. I probably would have just been Woody Boyd but for the fact that Keanu Reeves [initially up for the part] didn't play great basketball. That was the only thing that saved me."
Moving on to True Detective, Harrelson spoke highly of his co-star and friend Matthew McConaughey, who is the talk of the entertainment world right now due to the show, film Dallas Buyers Club and his likely Oscar win in March.
"I love Matthew McConaughey, he's like a brother to me. I honestly wouldn't have done it, except that Matthew was doing it. He jumped into it and said 'yes' before any other actors were involved. He related to the writing and knew how good it was from just the two episodes he'd read."
On how he works with him when the cameras roll, Harrelson said: "We usually have a shorthand in the way we work together but on this project a lot of what would be our shorthand didn't apply.
"Usually, we finish each other's sentences but with this, Matthew was an island. He is one of the most gregarious guys I know but he is a little more method than me, and with this, he was fully in character and stayed in it."
Television has re-entered a golden age in recent years with series such as Breaking Bad, Mad Men, Game of Thrones and now True Detective. Harrelson spoke of this, and of some of his favourite shows.
"It's not the same as it used to be, with people saying you shouldn't do television. Now, everyone is doing it and there are some great shows on. I love Downton Abbey, Homeland, Breaking Bad... I like House Of Cards. And what's the one with Emily Mortimer? The Newsroom."
You can read the full interview here.