Two men have been arrested for attacking mosques in south-east England as the backlash against the butchering of a British soldier in Woolwich begins.
In Gillingham, Kent, a man ran into the local mosque and started smashing windows and bookcases. Meanwhile in Braintree, Essex, it is alleged that a man attacked the Islamic place of worship with a knife and explosive device.
Both the attackers have now been arrested by police.
In Gillingham, one witness told Kent Online they saw a man enter the mosque and start smashing glass, specifically targeting cabinets containing copies of the Qu'ran.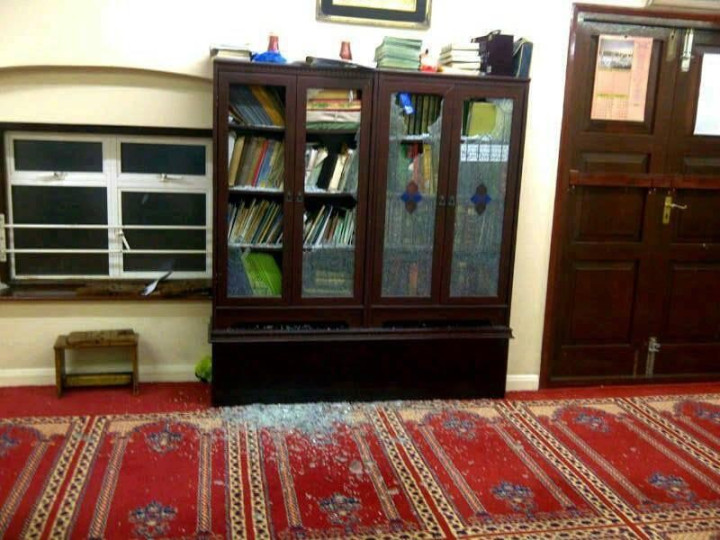 Officers were called to the scene at 8.40pm, and a man was arrested on suspicion of racially aggravated criminal damage at 8.44.
Officers established a protective line outside the mosque to prevent further attacks.
Meanwhile, in Essex, police have released a statement confirming that officers arrested a 43-year-old man in Braintree, on suspicion of carrying an offensive weapon and attempted arson.
The secretary of the mosque told Channel 4 News that the man burst in with two knives and tried to attack the congregation, and shouted "where is your allah now?"
Witnesses also claim the attacker threw an explosive device, believed to be a grenade or gas canister. A text allegedly sent by a member of the Braintree congregation has appeared on twitter, although it has yet to be verified.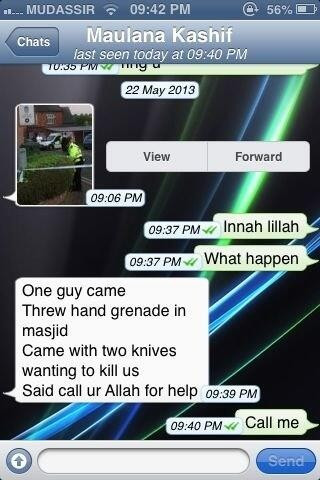 The suspect, who was arrested at 7.15pm, remains in custody.
The attacks came as a huge congregation of EDL members clashed with police in Woolwich in protest at the earlier murder. https://www.ibtimes.co.uk/woolwich-beheading-edl-police-clashes-470240
As reported at the scene by IBTimes UK reporter Dominic Gover, Up to 150 English Defence League supporters clashed with police in running battles outside Woolwich Arsenal Docklands Light Railway station.
The far-right supporters had gathered in response to a call by EDL leader Tommy Robinson who had called for "feet on the street" in response to the killing.