Work begins to move giant shield over remains of destroyed Chernobyl nuclear reactor
A concrete and steel arch is being moved to cover a exploded reactor, which triggered the 1986 disaster.
Work has begun to move a giant concrete and steel shield over the remains of the Chernobyl nuclear reactor that exploded in 1986.
The $1.6bn (£1.3bn) shield measures 275m (900ft) wide and 108m (354ft) tall and is designed to stop radioactive material leaking out of the blast site over the next century.
The 36,000 tonne New Safe Confinement arch replaces a concrete sarcophagus, which was hastily built over the site of the stricken reactor to contain the worst of the radiation, although it was feared that the structure could leak further radiation. The new, more permanent solution has been in the works since late 2010.
The site, in northern Ukraine close to the border with Belarus, was the scene of the world's worst nuclear accident on 26 April, 1986, which left an estimated 64 dead after initial exposure to radiation, leaving thousands affected nearby with various strains of cancer.
The European Bank for Reconstruction and Development (EBRD), which is leading the project, say the shield is the largest moveable land-based structure ever built.
They hope that by 29 November 2016, the huge arch will cover the remains of the fourth reactor, which lost its roof in the explosion.
The current concrete sarcophagus was built by teams of drafted Soviet rescue workers, nicknamed the liquidators. However, there is still a huge amount of radioactive material still inside and once the shield is in place work will then begin to safely dismantle the reactor.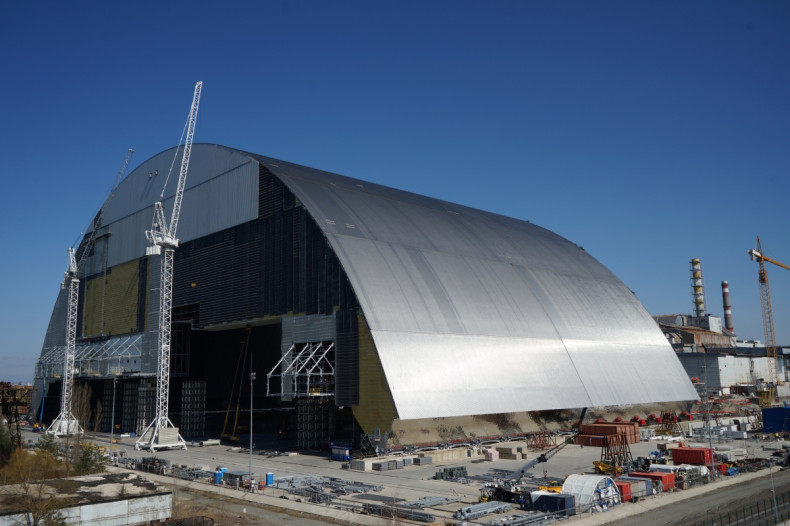 Due to the high radiation levels near the site, the shield was built away from the scene but now travelling into place Ukraine's ecology minister, Ostap Semerak, said it is "the beginning of the end of a 30-year long fight with the consequences of the 1986 accident".
He told the BBC: "The credit for construction of this one-of-a-kind technological structure goes to an expert team of engineers and builders".
The blast, which took place during a late night power-failure stress test on 26 April 1986, sent a plume of radioactive material into the air across much of Northern Europe and the then Soviet Union.
A UNSCEAR report places the total confirmed deaths from radiation at 64 and the UN-backed Chernobyl Forum estimated that up to 9,000 people could eventually die from radiation exposure, although Greenpeace claims the figure could be as high as 93,000.