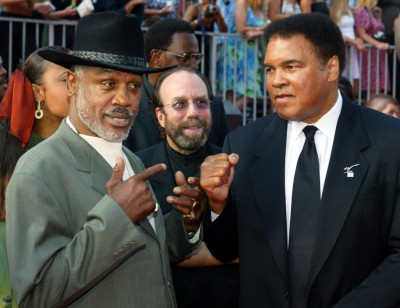 Former world heavyweight boxing champion Joe Frazier died last night after the 67-year-old lost his battle with liver cancer, his family have confirmed.
The 1964 Tokyo Olympic gold medallist had been undergoing treatment in Philadelphia having been diagnosed with cancer several weeks ago. Sadly the disease was at an advanced stage, and Frazier, also known as Smokin' Joe, died at his home in Philadelphia, Pennsylvania late last night.
A family statement read: "We, the family of the 1964 Olympic boxing heavyweight gold-medallist, former heavyweight boxing champion and International Boxing Hall of Fame member Smokin' Joe Frazier, regret to inform you of his passing.
"He transitioned from this life as "One of God's Men," on the eve of November 7, 2011 at his home in Philadelphia. We thank you for your prayers for our father and vast outpouring of love and support.
"Respectfully, we request time to grieve privately as a family. Our father's home going celebration will be announced as soon as possible. Thank you for your understanding."
Born in Beaufort, South Carolina on 12 January, Frazier won the heavyweight title in 1970 by defeating Jimmy Ellis in New York, and successfully defended it four times before succumbing to George Foreman in 1973.
Frazier's career was defined by his iconic encounters with the man widely deemed the finest boxer of all time, Muhammad Ali.
He was the first man to beat Ali, winning on points in a bout dubbed the "Fight of the Century" at Madison Square Garden in 1971, which attracted a worldwide audience of over 300 million. He lost in two further meetings between the pair, most notably in the "Thrilla in Manila" in 1975, when Frazier's trainer Eddie Futch famously refused to let him come out for the fifteenth round.
In their pomp, the duo's contrasting styles in and out of the ring was an intriguing subplot to the golden era of heavyweight boxing. The brash Ali regularly insulted the old-school Frazier outside of the ring, whilst their conflicting boxing styles, with Frazier's vicious left-hook and uncompromising aggression contradicting Ali's grace and speed, made their rivalry all the more memorable.
Despite their hugely iconic and at times brutally destructive rivalry, it was his great nemesis who led the tributes this morning.
"The world has lost a great champion. I will always remember Joe with respect and admiration," Ali said. "My sympathy goes out to his family and loved ones."
Britain's former world heavyweight champion Lennox Lewis also paid tribute to Frazier.
"I am extremely saddened at the news of the passing of former world heavyweight champion Smokin' Joe Frazier." Lewis told the Daily Mail.
"He made history in the greatest era ever of heavyweight boxing and his contributions to the sport are profound and immeasurable.
"My deepest sympathies go out to the Frazier family during this time of loss and grief and I would like them to know that they are in my prayers. He will be missed but never forgotten. May he rest in peace."
Frazier retired in 1976 after being beaten by Foreman for a second time, and boxing promoter Frank Warren believes his fights with Foreman and Ali will define 'Smokin Joe' as one of the sport's all-time greats.
"He was part of that era of the best heavyweights there have ever been." Warren told BBC Radio 5 Live.
"The trilogy of fights that he had with Muhammad Ali, the tough fight he had with George Foreman and the good wins on the way - he was one of the most exciting heavyweights ever.
"People talk about Mike Tyson at the age of 21 - Joe Frazier, when he was a young fella, was every bit (as good as), if not better than, Mike Tyson."
Frazier finished with a career record of 32 wins (27 knockouts), four losses and one draw from his 37 professional bouts.