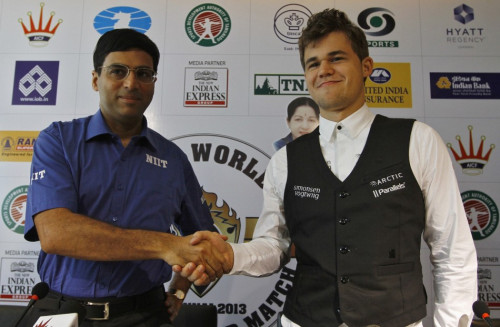 The world championship match in which the so-called Justin Bieber of chess, Magnus Carlsen, is hoping to cement his status the game's biggest star in decades, has ended in a draw.
Playing in Chennai, India, close to where defending champion Viswanathan Anand, 43, was born, the Norwegian former child prodigy caught the Indian off guard with his opening, and the game ended in a draw after 25 moves.
The 12-match series is the most hotly anticipated since the epic 1972 contest between US star Bobby Fischer and Boris Spassky, in which the American ended 24 years of soviet dominance in the competition.
In the second tense draw in succession, Carlsen said the two opponents were still sizing each other up, and the matches would become better.
"I did not know what to expect really. I feel it is a little bit similar to my start in the Candidates Tournament where I got an easy draw as black in the first and conceded an easy draw with white in the second game. Then things really took off," he said, adding: "like Vishy said, we are both settling in."
Both players spoke of their respect for each other in the post-game press conference.
"Magnus' results in the last few years speak for themselves. Definitely he is the toughest [opponent]," Anand said.
In the opening game Anand, who has been world champion since 2007, forced Carlsen to repeat a position by chasing his queen with a knight, forcing a draw after 16 moves. If a player is forced to repeat a position three times a match is a draw.
Carlsen became the youngest ever top ranked player in history at 18, the second-ever western player to achieve the status after Fischer, having become a grandmaster at just 13.
He has attained a celebrity status few in the sport have achieved. He was voted 'one of the sexiest men of 2013' by Cosmopolitan, is reputed to earn £1 million a year and appeared in a modelling campaign for fashion brand G-Star alongside Hollywood star Liv Tyler. Competition organisers hope his success will draw a new audience to the game.
Anand, who enjoys huge support in his home country, said after the first game: "After months and months of thinking about it, it was almost a relief to finally get the chance to play.
"A comfortable draw like this [with black] is of course very satisfactory."