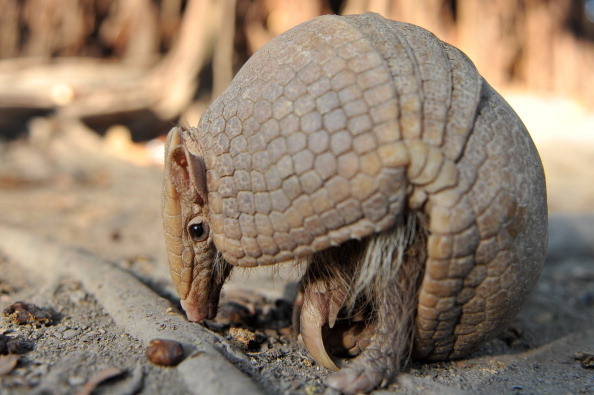 Conservationists have asked football's governing body Fifa to do more to protect the Brazilian three-banded armadillo, the species chosen as the mascot for this year's World Cup.
The Brazilian armadillo lives in the Caatinga forest, in the north-eastern part of Brazil, and is listed as an endangered species on the IUCN (International Union for Conservation of Nature) Red List.
It was thought to have been extinct until the early 1990s when it was rediscovered in a handful of isolated populations throughout eastern Brazil.
This type of armadillo, known in Brazil as tabu bola, or armadillo ball, protects itself by rolling its flexible armour into a ball when threatened.
Scientists have called on Fifa and the Brazilian government to designate parts of the armadillo's dry forest habitat as protected areas.
In an article published last month in Biotropica, a group of Brazilian scientists wrote: "As football fans and conservationists, we challenge Fifa and Brazil to set an ambitious mark: at least 1000 hectares of Caatinga declared as protected area for each goal scored during the 2014 World Cup".
Rodrigo Castro, executive secretary of the Caatinga Association, said, "The Caatinga suffers intense deforestation because it is a source of fuel wood.
"Besides this, livestock ranching is expanding, the local population is increasing and an activity linked to cultural traditions, hunting, is another factor that has contributed to a drastic reduction of the species."
While the Brazilian government has already held a meeting with the scientists in order to draw a conservation plan, Fifa has not yet responded to the scientists' request.
In a statement to the BBC, Fifa said choosing this animal as the official mascot "has helped to raise awareness in Brazil around the three-banded armadillo and its status as a vulnerable species".
The mascot has been named Fuleco, a combination of the Portuguese words for "football" and "ecology".
"According to our latest research in the Brazilian market Fuleco is known by 95% of the Brazilian population," Fifa continued.
Scientists said there is still time for Fifa to ensure adequate protection for the armadillo, before the games begin on 12 June.