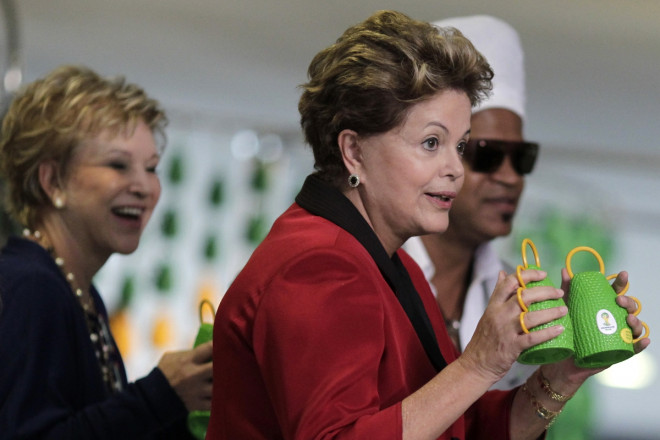 Factory workers in China making plastic World Cup football rattles have downed tools after authorities voiced concern that fans might turn them into missiles and throw them at players.
Orders for millions of the maracas to be sold in Europe and South America were thrown into chaos as authorities in Rio made hasty plans for a last-minute redesign.
The rattle in question is the caxirola, Brazil's answer to the two-foot vuvuzela trumpet, whose ear-splitting noise was a feature at the 2010 World Cup in South Africa.
Researchers from the Federal University of Santa Maria in Brazil found that it would take 2,000 caxirolas to make the sound of a single vuvuzela.
Vuvuzelas were made for 19p each and sold for a mark-up of £10. Retailers for the 2014 World Cup are keen to cash in on the profits that may await them in Brazil.
The caxirola was unveiled in 2012 by its inventor, Carlinhos Brown. The rattle has a vivid green outer covering, which encases a small plastic keg with ball bearings inside and finger-hold loops on the side.
When shaken, it emits a rhythmic sound intended to show jubilation when a football team scores, but without deafening supporters in the stadium.
However, the caxirola's debut outing was a disaster. Thousands were given to supporters at a domestic match, which progressed into farce as fans turned their fury on the referee, who made an unpopular decision.
In protest, supporters began throwing their caxirolas at the pitch until the entire area was covered in the fluorescent rattles.
The caxirola was banned from stadiums by Fifa last June. But production at Chinese factories was already in full swing and millions of rattles in the national colours of competing teams had already been manufactured.
The new and improved version, a softer, inflatable 'caxirola 2.0' was designed and given a health and safety makeover by experts.
Brazilian newspaper Zero Hora said the rattle, which sells for $13.99, is considerably less dangerous than its predecessor.
Watch the caxirola riot (1'30") on YouTube, below.