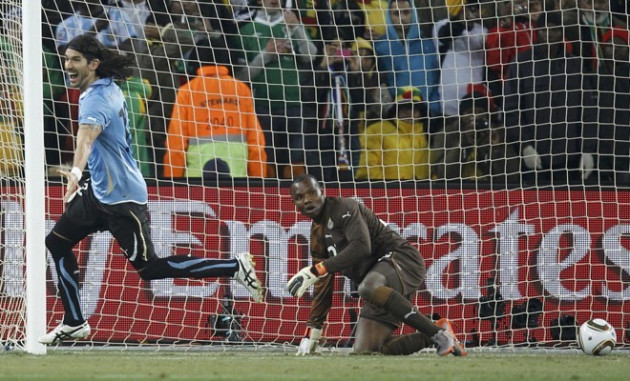 Ghana international Richard Kingson has revealed he was offered a $300,000 (approximately £200,000) bribe to influence the outcome of an international fixture.
Kingson, a goal keeper with 90 caps for his country, spent four seasons in England, playing for Birmingham City, Wigan Athletic and Blackpool, who released him on a free transfer last year. The 34-year-old is presently a free agent.
Kingson now claims he was offered the money to sabotage his country's game against the Czech Republic, in the 2006 FIFA World Cup in Germany. The offer was to allow the Czechs to win 2-0, a result that would have sealed Karel Brückner's men's progress into the knockout stages.
However, as it turned out, the African nation won the game 2-0 (goals from Asamoah Gyan and Sulley Muntari) to blow the group wide open. They eventually qualified in second place ahead of the Czechs, but were knocked out in the next round after losing 3-0 to Brazil.
"In the 2006 World Cup in Germany, we were about to play Czech Republic. By then they were the second best in the world. A Ghanaian led me to some people to take a bribe," Kingson explained, adding that it was his wife who persuaded him to do the right thing.
"My wife said: 'Richard, I love you not because of your money, so don't get tempted by this offer to lose your dignity and credibility'," he added.
The Ghana national team are third in their group (Round Two, Group D) in qualifying for the 2014 World Cup in Brazil, with three points from two games. They next play group leaders Sudan at home on 22 March, 2013.
Bewitched
Meanwhile, it appears Kingson is having quite a few adventurous moments off the pitch. The unattached goal keeper has also had to deny claims his wife is a practising witch.
Local media sources such as News1Ghana, claim the player's wife, Christabell Adelaide Kingson, told Emmanuel TV (a satellite channel) she was a witch and she had rendered her husband impotent and jeopardised his football career.
Kingson has reportedly been forced to take to Facebook to refute the claims, while also stating he believed "evil spirits" were at fault.