The Year's Most Striking News Pictures Revealed at World Press Photo 2012 Exhibition [PHOTOS]
The World Press Photo 2012 exhibition, which showcases the year's most striking news photographs from around the world, has opened at the Royal Festival Hall on London's Southbank.
The 55th annual World Press Photo exhibition runs until 27 November, and displays press images of the world's most disturbing events of the past year. These include images from the Arab Spring - from demonstrators in Tahir Square to Libyan rebels fighting during the uprising against Colonel Gaddafi.
The photos on display were selected by a panel of judges from over 100,000 submissions. The exhibition of prize-winning photographs will travel to 45 countries over the next year.
Among the images selected for display are photos from the Norwegian massacre and from the aftermath of the Japanese earthquake and tsunami of last year. One of the tsunami photos on display includes the famous image of a woman sitting and crying, alone amidst the ruins of the town of Natori. The photograph won third prize in the Singles category.
The World Press Photo of the Year is also on display at the exhibition. The winning photograph by Samuel Aranda is an image of a Yemeni woman, Fatima al-Qaws, cradling her son Zayed in Sanaa, Yemen, on 15 October 2011.
"Zayed was suffering from the effects of tear gas after being fired at as he approached a government checkpoint during protests against the authoritarian President Ali Abdullah Saleh. Zayed remained in a coma for two days after the incident. The image was taken at a mosque that was being used as a temporary field hospital where Ms Qaws found her son among the wounded," according to the exhibition's curators.
The exhibition features a total of 169 photographs. For more information, see the World Press Photo website.
Scroll down to view some of the most heart-wrenching images from around the world, taken from the World Press Photo 2012 exhibition...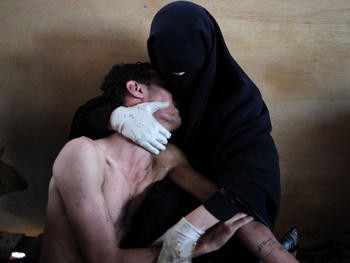 © Copyright IBTimes 2023. All rights reserved.