Isis militants are said to have captured a border post and key town between Syria and Iraq, potentially opening the way for rebels to move weapons and forces between the two countries. It is thought the Sunni group may be preparing the ground for an assault on Baghdad, where thousands of Shia have taken to the streets in a show of defiance and strength.
Rebels entered al-Qaim on Friday 20 June, and shortly afterwards guards at the border crossing are said to have abandoned their posts. Iraq is rapidly dividing along religious lines between Kurds, Sunni and Shia Muslims and the US has become so concerned about the rapidly changing situation it may send special forces to Baghdad and is even considering co-operating with Iran.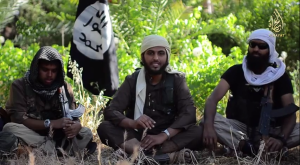 Isis are believed to want to create an Islamic Caliphate from Iran to the Mediterranean. The organisation, an off-shoot of al-Qaida, includes fighters from all over the world, including the UK, some of whom appear in a new video released by the insurgents, "There is no life without Jihad."
In the 13-minute-video Nasser Muthana, 20, invites other young Muslims from the UK to go and join the "holy war". "We are a state who is implementing the Sharia in both Iraq and the Sham. And look at the soldiers, we understand no borders," says Muthana, who calls himself Abu Muthanna al-Yemeni. "We have participated in battles in Sham and we will go to Iraq in a few days and we will fight there."
Muthana's father Ahmed spoke of his heartbreak when he saw his son on the video, telling ITV News: "I wish I could hold him, hold his hand, ask him to come back. As a father I give a message, not only to Nasser, to all the people that go from Britain to Syria to fight please stop. Come back home."
Prime Minister David Cameron believes many of those who have gone to fight in Iraq and Syria may pose a significant security threat when they return, telling MPs: "The people in that regime, as well as trying to take territory, are also planning to attack us here at home in the United Kingdom. The estimates are now that this is a greater threat to the UK than the return of jihadists from the Afghanistan or Pakistan region."
Cameron's view is backed by Sir Peter Fahy, Leader on the Prevent counter-terrorism strategy for the Association of Chief Police Officers, who believes there may be 500 or more UK citizens currently fighting with Isis, including so-called "gap-year jihadis", who choose to go and fight in the Middle East where other young people might backpack across Southeast Asia. There are also claims that an 18-year-old from Stoke Heath, Coventry, has gone to join Isis.
"This isn't just a police issue," said Sir Peter, "it's about working with schools, youth organisations, even people in the NHS. It's about trying to get the whole community to identify people who may be thinking about going to Syria."