A missing UK teenager is feared to have fled to Syria to join the terrorist organisation Islamic State in Iraq and the Levant (Isis).
The 18-year-old, who has not been named, went missing from his home in Stoke Heath, Coventry, prompting fears he has been recruited by Isis after he posted images of himself on Instagram holding guns and tweeting that he had joined the militant group in Syria.
An investigation has been launched by West Midlands Police's Counter Terrorism Unit after the teenager's parents reported him missing in March.
Philip Townshend, deputy leader of Coventry City Council, told the Coventry Telegraph: "I am very concerned to learn of these reports. If they are accurate, it is a matter of profound concern. We need to investigate the background to this swiftly and I will be discussing it with the local police commander and the Counter Terrorism Unit.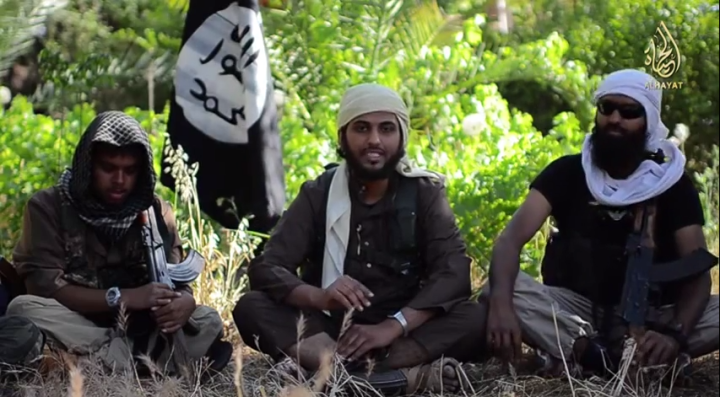 "In the meantime, I will continue to work with representatives of the Muslim community of Coventry. They are decent people who make a significant contribution to the city in so many ways.
"Together, we need to continue to discourage young people from becoming alienated and engaging in reckless acts that can mar the lives of others and themselves."
Video footage recently released by Isis depicted five militants recruited from the UK and Australia vowing to wage holy war in Jordan and Lebanon if ordered to do so by their leader Abu Bakr al-Baghdadi.
British militant Nasser Muthana, 20, is heard saying in the 13-minute video under the adopted name Abu Muthanna al-Yemeni: "We are a state who is implementing the Sharia in both Iraq and the Sham. And look at the soldiers: we understand no borders.
"We have participated in battles in Sham and we will go to Iraq in a few days and we will fight there. We will even go to Lebanon and Jordan with no problems, wherever our Sheikh (Baghdadi) wants to send us."
Muthana's father Ahmed told the BBC that he was "heartbroken" his son, a would-be medical student from Cardiff, had left the UK to fight in Syria and said he feared his son would "come back in a coffin".
"I'm sad that he's gone without telling me he's going," Ahmed said. "He disappeared and when I saw it on the television, I thought 'what is he doing there'?"
"I don't think that's Nasser talking. It's someone else teaching him to talk like this because the attitude of Nasser is 100% completely different."
According to Peter Fahy, who leads the prevent counter-terrorism strategy for the Association of Chief Constables, an estimated 500 British fighters are thought to be participating in jihad abroad.