The world's longest train tunnel between Switzerland and Italy has been completed and will go into service next June (2016). The 38-mile (60km) long NEAT Gotthard Base Tunnel will allow trains to travel between Zurich and MIlan in just two hours 50 minutes, shaving an hour off the current time. In January 1,000 people will be selected for the maiden voyage.
The Gotthard Tunnel has cost the Swiss authorities £6.5bn and took 2,000 workers 20 years to build, which included shifting 31 million tonnes of earth using two million truckloads. Boring machines were able to cut through up to 100 feet of rock every day. There are actually two parallel tunnels so trains can run in both directions. Eight workers died during the tunnel's construction.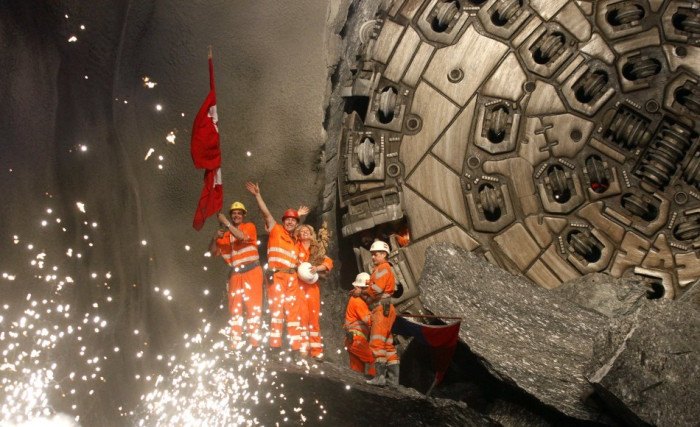 At its deepest point the tunnel is 8,0000 feet beneath the Alpine peaks, and was designed so the tracks are almost completely flat throughout the whole length of the trip. This will enable trains to travel at up to 150mph through the tunnel.The new link is thought to be essential for connecting the densely-populated communities of north west Europe with the south and east of the continent, allowing people and goods to be transported much faster.
The first safety tests through the tunnel will take place next month (October). Renzo Simoni, CEO of AlpTransit Gotthard, told Geneva's newspaper TDG: "After opening the tunnel, it will be the safest stretch of the Swiss railway network."
Currently the world's longest tunnel is Japan's Seikan tunnel which links the main island of Honshu with Hokkaido and is 33 miles (53km) in length, closely beating the Channel Tunnel which is 31 miles (49km) long. However China is planning a 76 mile (122km) underwater tunnel which would link Liaodong Peninsula to Shandong Peninsula at a cost of 200 billion yuan (US$32 billion).