The worldwide PC shipments in the second quarter of 2015 have declined to around 10%, according to market research firms Gartner and IDC.
While IDC notes the PC shipments totaled 66.1 million units for Q2 2015, with an 11.8% decline from same quarter in 2014, Gartner notes 68.4 million units globally with a 9.5% decline, ahead of Microsoft's newest operating system - Windows 10 launch which is scheduled towards the end of this month.
Both firms agree that this shipment fall has been anticipated due to weaker exchange rates of foreign currencies that have increased the PC prices and also the stronger shipment noted for the end of Windows XP support.
"The price hike of PCs became more apparent in some regions due to a sharp appreciation of the U.S. dollar against local currencies. The price hike could hinder PC demand in these regions. Secondly, the worldwide PC market experienced unusually positive desk-based growth last year due to the end of Windows XP support," explains Mikako Kitagawa, principal analyst at Gartner.
"After the XP impact was phased out, there have not been any major growth drivers to stimulate a PC refresh. Lastly, the Windows 10 launch scheduled for 3Q15 has created self-regulated inventory control. PC vendors and the channels tried clearing inventory as much as possible before the Windows 10 launch," added Mikako.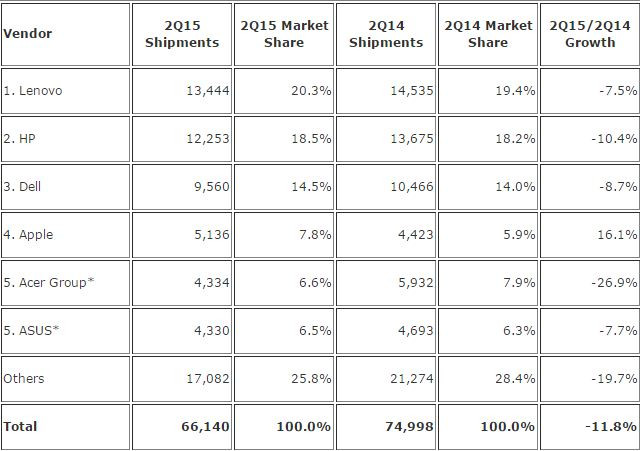 Meanwhile, Loren Loverde, Vice President, Worldwide PC Trackers & Forecasting, affirms the decline in the shipment is expected to continue.
"We continue to expect low to mid-single digit declines in volume during the second half of the year with volume stabilizing in future years. We're expecting the Windows 10 launch to go relatively well, though many users will opt for a free OS upgrade rather than buying a new PC. Competition from 2-in-1 devices and phones remains an issue, but the economic environment has had a larger impact lately, and that should stabilize or improve going forward," he added.
As for the region wise, the shipments in the US totaled above 15 million units approximately in the second quarter. In EMEA regions, the sales figures are below expectation level.
Among the PC vendors, both firm notes that Lenovo acquires the top position with shipments of 13.4 million units, followed by HP and Dell in the second and third position respectively. According to IDC listing, Apple manages to occupy the fourth place for worldwide PC shipments.