Officials are on the lookout for a group of friends who threw a blanket over a mewling sea lion pup at a California beach and took it away in the trunk of their car.
Witnesses said two men and two women between the ages of 20 and 25 had been chucking trash and a cinder block rock at the pup and a second one that had apparently become stranded along the shore at Dockweiler State Beach in Los Angeles. They also tried to grab the other pup but it escaped.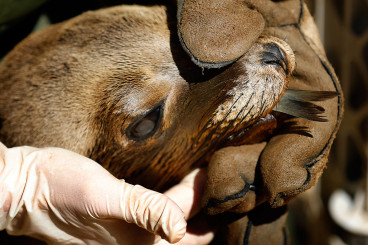 Police were called and arrived shortly after the sea lion nappers left. The remaining pup, ten months old and emaciated, was taken in by the Marine Rescue Centre in southern California.
The incidents of people grabbing pups is up this year, according to officials, because a record number of starving sea lion babies have been stranded on California beaches this season. Fish populations have been disrupted by increasing temperatures in the Pacific Ocean, forcing sea lion mothers to hunt longer for food. Still-nursing pups, left behind on shore too long, begin to starve and strike out on their own, only to become stranded on another beach.
Often people who take pups have good intentions, but don't know what they're in for, said Marine Rescue Centre president Peter Wallerstein. "They'll put them in their bathtubs, then call us to rescue them," he told the Los Angeles Times. They don't make good pets, he warned.
Federal law prohibits the harassment, capture or killing of sea lions. The penalty for removing a pup is up to $11,000 (£7,400) in civil fines, criminal fines and a year in jail, according to the National Oceanic and Atmospheric Administration.
The Department of Fish and Wildlife began an investigation into the snatching, but the Los Angeles Police Department animal cruelty section is also involved.