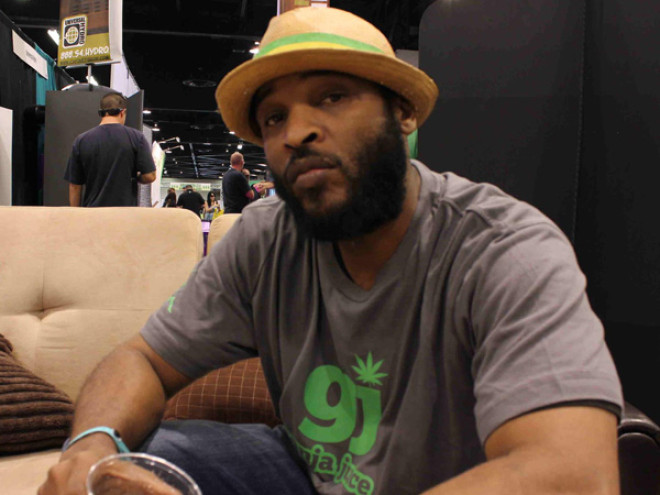 A rapper who severed his own penis and then jumped from a Los Angeles apartment building said his actions were the result of depression.
Andre Johnson, who performs with American hip-hop group Northstar under the stage name Christ Bearer, was found by official's critically injured after leaping from the apartment building in North Hollywood around 1:00am on Wednesday April 16.
He survived the fall from the second level of the building and was rushed by ambulance to Cedars-Sinai Medical Centre.
E! Online reported that the rapper had cut off the tip of his penis first, then removed his testicles and the remainder of his genitalia. The organs were recovered in the apartment.
At the time it was suspected that he was on a dangerous psychedelic PCP which is known for its dissociative effects, however the 40-year-old, has now told TMZ that he was smoking weed and reading a book about monks and vasectomies immediately before the self-castration.
He attributed the extreme act of self-injury to depression, stating that his "world was collapsing" after he was prevented from seeing his two daughters due to a restraining order, and that he had a third child on the way.
TMZ also reported that doctors were able to reattach Johnson's penis.
While he claims he will be able to regain full functionality, having more children will not be possible.
A rap duo, Northstar were discovered by Wu-Tang member RZA in 1998 and produced some of their albums.
After the incident hit headlines, RZA distanced himself from Johnson, releasing a statement saying that he had nothing to do with the rap double act for 10 years.
Parental Advisory: "Don't Believe The HYPE. This Mother F*cker Ain't Got Sh*t to do with The WUTANG Brand," a statement from the group said.
PCP is a 'dissociative drug' meaning that it distorts perceptions of sight and sound and produces feelings of detachment from the environment and self.
First introduced as a street drug in the 1960s, PCP, which comes in crystal form but is often smoked with a herb like mint or marijuana, quickly gained a reputation as a drug that could cause bad reactions and was not worth the risk.