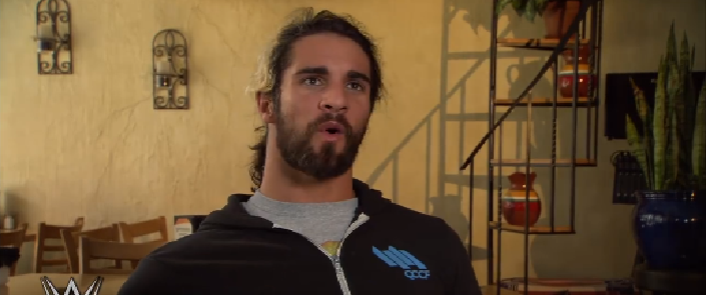 Seth Rollins has said that it was hard on him as he was not the one Roman Reigns had to fight to win the WWE heavyweight title at WrestleMania 32. Reigns defeated Triple H for the title at the event.
The 30-year-old was forced to turn in his heavyweight title seven months back, after suffering a knee injury. He has now recovered from injury and seems to be "obsessed" about reclaiming his title, which he believes was taken from him "unfairly". Rollins now has a great opportunity to win the title when he squares off with Reigns at Money In The Bank 2016 in Las Vegas on 19 June (Sunday).
Rollins has said that he is confident of reclaiming his title as he is "two steps ahead" of Reigns. "Since I lost that title...since it was taken from me unfairly due to injury, I thought of nothing else but coming back and getting it [title] back," he said during an interview with WWE's Michael Cole.
"I could not defend my title at WrestleMania. I had to watch as somebody else stood in my spot in the main event of WrestleMania and win that title. And that somebody else was Roman Reigns," the Buffalo-born wrestler said.
"And now here we are 7 months after the injury and I am still as obsessed with getting back the title that I never lost," he added.
Rollins also disclosed as to why he had to move on from his former SHIELD teammates, which WWE fans considered a bitter betrayal on the part of the wrestler. He said: "I mean you can call it what you will, everyone said I sold out but whatever." "I took a risk that nobody else was willing to take and it put me right where I wanted to be. I wanted to be the best from day one – the best not one of the best."
"I didn't want to share the spotlight. I want to go down in history as the greatest of all time and the only way I can do that is by making decisions, sacrifices that other people won't make whether that is family or friends, brothers, whatever you want to call it. I did what I had to do and it paid off in the end."
When Cole asked as to why Reigns thinks Rollins is scared of him, he explained: "I would love to know why Roman Reigns thinks that I am afraid of him."
When Cole said that Reigns has pointed out that Rollins has continually attacked him from behind, the wrestler stressed: "Look it is called strategy. I have my way of doing things and I have always come on top. He has never beaten me and I have no reason to be afraid of Roman."
Check out the complete Seth Rollin's interview with WWE's Michael Cole below: