X Factor 2015: Olly Murs consoled by ex-host Dermot O'Leary after Monica Michael deadlock blunder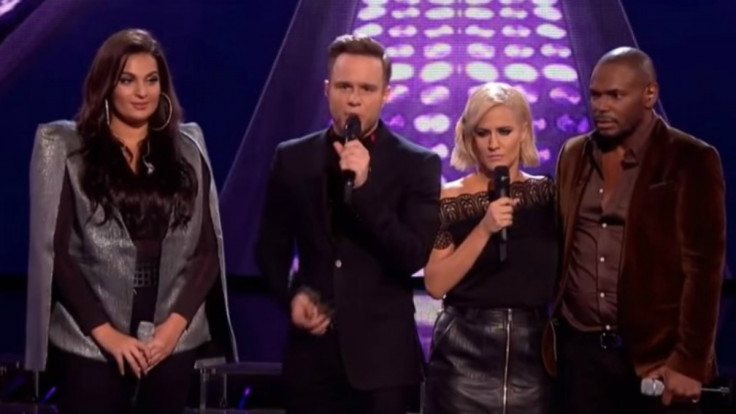 X Factor presenter Olly Murs was left embarrassed after making a huge mistake during Sunday night's (15 November 2015) live episode. The host accidentally revealed Monica Michael was leaving the competition before the result was officially due to be announced. He has now apologised for the blunder on Twitter.
Following Michael's sing-off with fellow contestant Anton Stephans after landing in the bottom two, the judges could not unanimously decide which act to send home, so the vote went to deadlock. Co-host Caroline Flack was expected to reveal the eliminated contestant by drawing a card from an envelope, but Murs, 31, got confused and revealed Michael was leaving the competition.
After Flack promptly corrected Murs on the gaffe, the singer apologised profusely to Michael before she was confirmed as the axed contestant. Murs, who found fame as an X Factor contestant in 2009, quickly became a trending topic on Twitter where he later addressed the embarrassing incident. The Troublemaker singer tweeted: "I apologise to everyone tonight I made a massive f%#k up at the end. It was so tense!! I'm still learning & hope that never happens again!"
Watch the moment Olly Murs made deadlock mistake on The X Factor:
Former X Factor host Dermot O'Leary jumped to Murs' defence against the criticism and consoled the presenter, tweeting: "Hey @ollyofficial Ahoy my friend. Keep that head up. Happens to us all. X," to which Murs replied: "cheers Derm!! Beating myself up about it mate! What a plonker!"
Some viewers joked that show boss Simon Cowell should fire Murs over the mistake, with one Twitter user commenting: "Has @ollyofficial been sacked yet? Terrible presenter on @TheXFactor." Another said: "Olly murs is surely getting sacked for that slip up, absolute school boy." One another user wrote: "Olly Murs and Caroline Flack are getting sacked in the morning, absolute shambles."
Sunday night's episode has also come under fire for appearing to make another mistake during Michael's sing-off. Towards the end of the singer's performance, the word "deadlock" flashed up on the big screen behind her despite the fact Stephans was yet to sing and the judges had not yet voted.
Branding it a "fix", one viewer wrote on Twitter: "When you clock that the X Factor is a massive fix. Deadlock before it even reached deadlock," while another stated: "The word 'DEADLOCK' should be replaced by the word 'FIX' #XFactor."
© Copyright IBTimes 2023. All rights reserved.