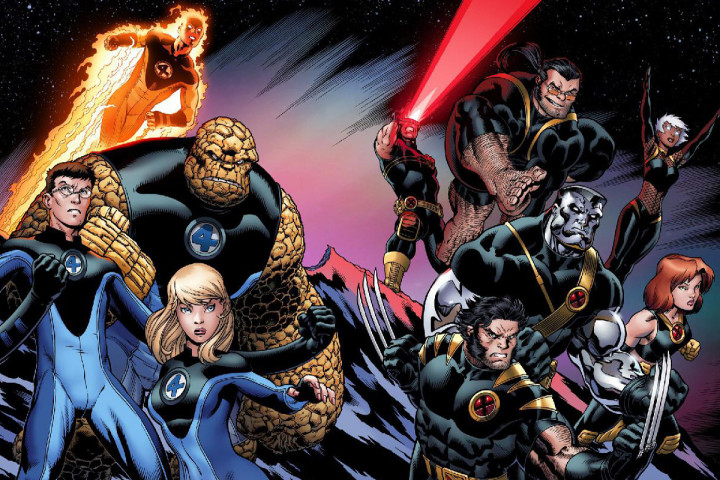 With Marvel dominating and defining the comic book movie space with their interconnected universe of films, everyone else is out to emulate that highly-successful model. Warner Bros with their DC superheroes and Sony with their Spider-Man universe for example.
The other major studio with the rights to superheroes on the big screen is also one of the biggest: 20th Century Fox. Their output to date has been dominated by the sprawling X-Men franchise, consisting of five core films and two spin-offs for Hugh Jackman's Wolverine.
However, in the next two years Fox will also release a Fantastic Four reboot and the recently-confirmed solo Deadpool film. Series producer and writer Simon Kinberg confirmed recently that Deadpool will take place in the X-Men world (the character has always had close ties to the mutant team) but whether or not The Fantastic Four will be part of that has been kept a mystery.
It remains a mystery, but recent comments from Kinberg have certainly teased the prospect of the X-Men and director Josh Trank's new-look Fantastic Four crossing paths.
Speaking to ComicBook.com he said: "I love the characters, I love the characters in Fan Four, and I love the new cast. Obviously I love the characters and cast of X-Men. So, hypothetically, the notion of putting them together is really intriguing, and there's some really fun stuff that the comics have done in the past. So it's not out of the realm of possibility."
Of course Kinberg also made clear that his current focus is on the films planned for release between now and 2016. "To be honest, I'm so focused on each of the movies right now - I'm so focused, now we're post, on Fantastic Four, and making that the best movie it can be," he says. "And then we're in prep on X-Men: Apocalypse, so those are kind of full time jobs."
The Fantastic Four stars Miles Teller, Kate Mara, Michael B Jordan, and Jamie Bell, and will be released on 7 August 2015. Deadpool will likely star Ryan Reynolds and will be released on 12 February 2016.
X-Men: Apocalypse will round-off the trilogy started with 2011's X-Men: First Class, and will be released on 19 May 2016.