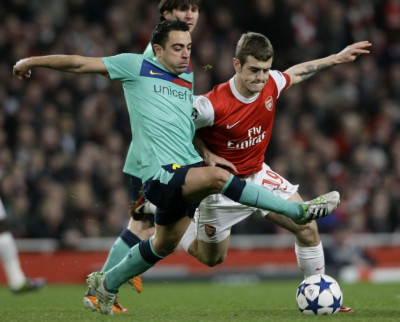 Fabio Capello could feasibly come up against the leading lights from Barcelona, Manchester United, Real Madrid and Manchester City should England get selected into a 'Group of Death' at the European Championship 2012 draw on Friday.
On the eve of the events in Kiev, Capello rather laughably suggested he would like to avoid nine of the 16 teams involved at EURO 2012.
In fairness to the much maligned Italian (who engineered such a nadir in Bloemfontein there is actually a palpable sense of previously unthinkable realism surrounding the national side) England face a daunting task in the European Championship no matter the outcome. That being said, one would hope he'd then be suitably alarmed should his worst nightmare be realised and England get drawn against Spain, Portugal, and France in what would of course be labelled the customary 'Group of Death'.
In the unlikely event Capello gets his wish and he avoids all the top sides, this slide-show would of course be rendered redundant to an undoubtedly jubilant England fan base, but just in case John Terry, Jack Wilshere, and a tardy Wayne Rooney get the rough end of the stick in Kiev this evening, the IBTimes thought they would take a look at some of the world's best players lying in wait at next summer's tournament in Poland and the Ukraine...
Xavi Hernandez (Barcelona and Spain):
Even the most optimistic of England fans would happily give the aforementioned Barcelona talisman and his much vaunted Spain side a wide berth at least until the knockout stages.
Xavi has arguably been on a par with Lionel Messi over the last few seasons and Johann Cruyff recently suggested he actually surpasses the Argentine.
"It all depends on how you see football." The Barcelona demi-god said.
"Xavi for me does not deserve it because he is the best, but because he is a player that makes a team in which others can develop."
The architect of two Champions League victories over Manchester United in three years and the creative hub behind Spain's ascent to the top of world football recently laboured against England at Wembley, but he has already shown his appetite for the biggest stage of all. England will be desperate to avoid the Nou Camp icon and his ludicrously gifted Spanish teammates.
David Silva: (Manchester City and Spain):
Widely considered the finest player in the Premier League, David Silva's ghostly horizontal movement and technical repertoire at his disposal has endeared him to Manchester City fans and fans of English football in general.
His form has enabled him to re-establish himself in Vicente Del Bosque's starting XI and he could be the player to watch out for in Poland and the Ukraine next summer. Like his teammate Xavi, he was successfully negotiated at Wembley a few weeks ago, but the likes of John Terry, Scott Parker and Jack Wilshere would surely not welcome an early match up against the former Valencia star.
Roberto Mancini recently labelled him one of the greatest players in the world and on current form it is difficult to argue.
"David for me is one of the best players in the world," The Manchester City manager said.
England have been warned.
Cristiano Ronaldo (Real Madrid and Portugal):
Remains the most expensive player in the history of the game and since leaving Manchester United to join Real Madrid for £80 million, he has probably got even better. Although Portugal have been frustratingly inconsistent in recent years, Ronaldo is arguably the greatest player in the world alongside his perennial rival Messi and an irrepressible force on his day.
A tormentor of England in the past, the Real Madrid striker would inevitably thrive on the opportunity to come against a number of characters he will be well acquainted with. Ashley Cole has an excellent record against the former World and European player of the year, but give him the option and Ronaldo would be the last thing on the menu.
"He can do that whenever he wants. He's that kind of player. He's such a great talent. I said that during the week-he's not just one of the most technically talented players in the world-he works hard. A player doesn't get to that level without working hard. He's exceptional." David Beckham may not make the finals but his respect for Ronaldo is clear.
Nani (Manchester United and Portugal):
Manchester United's Player of the Season last year and one of the Premier League's finest players, the Portuguese ace has matured immeasurably over the last 18-months. He has transferred his excellent club form onto the international stage and like Ronaldo, he would be well aware of England's fallibilities should they get drawn together. Adept on either foot, lightning quick and with an eye for goal, Nani is in the prime of his career and will want to make an impression at a major tournament.
"I think he's always had that potential. Everyone coming to a club from abroad, some can do it quickly but others gradually grow into the club and I think Nani's one of those," Manchester United boss Sir Alex Ferguson said. "I think even Cristiano [Ronaldo] took two or three years to get a maturity in his game and that's what we're seeing with Nani now.
"You see his stats for assists, goals have been fine but his assists are very, very high so he's progressing really well."
Karim Benzema (Real Madrid and France):
Once lauded as one of the best young players in world football, Benzema initially struggled after his big money move from Lyon to Real Madrid but his form in recent weeks has been a throwback to his carefree youth and that could be a worrying sign for England.
"Karim has to understand that he's not playing by himself, that he has to be more of a team player and work really hard, especially in training." Jose Mourinho recently told FIFA.com.
"He's doing just that and I'm pleased to see how his attitude has changed. He's starting to get the level of involvement that he deserves.
"I expect a lot from him, I want him to be as good as or better than the player I first saw at Lyon. I know how gifted he is and that's why I push him."
Perpetually linked with the Premier League's top clubs, Arsenal boss Arsene Wenger and his Manchester United counterpart Sir Alex Ferguson are big fans.
Benzema looks like he is ready to finally announce his undoubted ability on the biggest international stage having missed out on the 2010 World Cup finals. Laurent Blanc could unleash an in-form Benzema on Fabio Capello's England side and it will undoubtedly give the Italian some sleepless nights.