Xi Jinping's state visit to the UK is the culmination of a concerted effort by chancellor George Osborne to smelt what he has called "a golden decade" of economic relations with powerhouse China.
Since he took the chancellorship in 2010, Osborne has courted the Chinese for investment because he is looking to the future and knows that China will within a few short years overtake the US to become the largest economy in the world.
Yet this requires an uncomfortable compromise to keep China's sensitive government on side: staying schtum about the country's appalling record on democracy and human rights abuses. And, it appears, the Conservative government – freed from the shackles of coalition with the Liberal Democrats after winning a majority at the 2015 general election – is happy to keep quiet.
A senior Foreign Office official – the permanent secretary Sir Simon McDonald – admitted that human rights no longer carry the "profile" they once did in the department, which is instead choosing to focus on a "prosperity agenda". This shift in attitude is encapsulated by the government's attitude to China, a strategy developed by Osborne in the Treasury.
As dissident political activists are beaten and left to rot in Chinese jails, abandoned by the type of liberal democracies they would like to see China become, Britain's blind-eye tactics are paying off. Osborne and the Chinese government signed 53 agreements during his visit to the Far East in September 2015. Before this, a trade delegation in 2014, led by prime minister David Cameron, secured a number of deals – including one eyebrow-raising multimillion pound arrangement to export high quality British pig semen to China.
Chinese investors are already pumping £1bn ($1.55bn) to redevelop the Royal Docks in east London, where they will create a new hub of homes and offices, dubbed Little China, which they intend to become a new financial district.
Boris Johnson, the Conservative mayor of London, awarded the Chinese company ABP (Asian Business Port) the contract to redevelop the Royal Docks in 2013. Work has begun to revive the 4.7 million sq ft site over the coming decade – the golden decade, as Osborne has it. If successful the Royal Docks will serve as a European hub for Asian businesses, generating as much as £6bn for the British economy and creating 20,000 new jobs.
And the Chinese will need a hub in the City of London. The financial district is building on its ties with China by vying to become the biggest renminbi trading hub in the western world, a coup for Britain because China tightly controls its currency. The People's Bank of China is set to issue Chinese government debt denominated in renminbi in London. An official announcement is anticipated during Jinping's state visit.
Chinese money already flows freely into the British economy. Much of it finds its way into the London property market, where Chinese savers are capitalising on the shortage of housing, which has driven up rents and house prices for the city's beleaguered residents, because of the significant returns on investment.
Despite the protests, human rights issues will do little to trouble Osborne's "prosperity agenda" when it comes to China. There is, however, one big problem overshadowing Jinping's state visit that has caused a lot of outcry: China's demolition of Britain's steel industry.
Thousands of jobs are being lost as the likes of SSI and Tata Steel cull production in the north east of England. The reason is that they can no longer compete with low-cost Chinese imports because eastern manufacturers are not held to the same tough rules as those in Europe on things such as emissions targets and state subsidies.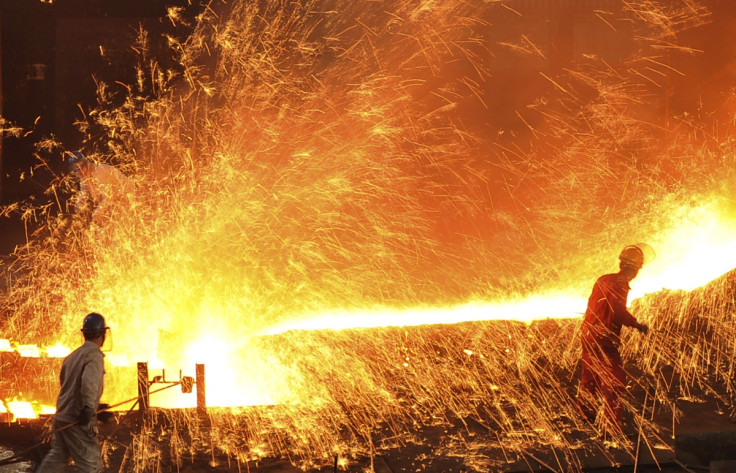 China's recent economic slowdown has curtailed domestic demand for its home-produced steel – much of which is paid for by the state – leaving an enormous glut in the supply of steel across the world market. According to Reuters, four-fifths of Chinese steel company profits in the first six months of 2015 were funded by government subsidies, which are propping up the industry. This is anti-competitive behaviour that is killing off British industry. So Cameron's hand has been forced and he has pledged to raise what has been labelled "steel dumping" with Jinping during his visit.
But this does not change the government's narrative that the future is China, and a strong economic relationship between the two countries would be significantly in the UK's favour. That we must export more to China, and attract much more investment from it.
The Office for National Statistics (ONS) has data showing just how much more important China has become to the UK economy over a decade:
The importance of China to the UK economy as a trading partner has increased consistently since 2004, with both imports and exports increasing. Following a growth of imports from £11.4bn to £37.6bn in 2014, China has become the UK's second largest import partner behind America, accounting for 7% of UK imports in 2014 compared with 3.3% in 2004.

Compared with the rise in imports, exports to China have risen at a more subdued rate over the same period, from £4bn to £16.7bn in 2014 and now accounting for 3.2% of goods UK exports. Trade in goods dominates UK trade with China, which has accounted for over 80% of all UK trade with China per year since 2004.
China owns chunks of the UK economy, from Thames Water to the manufacturer that makes London's black cabs to the Hinkley Point nuclear power station. And it will own more in the future as Osborne leads us through this so-called golden decade. But while the British wallet will be stuffed a little fuller, the human rights agenda will be pushed even further down the agenda. As the UK economy gets richer, we must ask ourselves: at what cost?