Chinese smartphone maker Xiaomi, best known for its budget series of smartphones viz the Redmi 1S mid-ranger and the Redmi Note high-ender, launched the successor to its popular Redmi 1S during the first week of January.
This device called the Redmi 2 features the all important Qualcomm Snapdragon 410 64-bit processor and supports 4G-LTE. Both these aspects give the smartphone an edge over smartphones of rival brands.
Those of you waiting to lay your hands on the handset, have plenty to cheer about, as the Redmi 1S can now be ordered online, and will ship immediately to customers across various countries of the world.
With the Redmi 2 slated to get an official launch in India, Singapore and Malaysia in the immediate future, Xiaomi loyalists residing in other countries of the world could check out the latest ordering system.
Xiaomi's Redmi 2 can be ordered online internationally via SPEMall (a Chinese e-tailer), and the smartphone is priced at $155 (£103).
The Chinese e-tailer also claims to deliver the device to people residing outside China, including the United States and the United Kingdom.
Is the Xiaomi Redmi 2 worth purchasing, via third-party e-tailers?
At this point of time, people living in countries outside Asia could consider ordering Redmi 2 from the Chinese e-tailer, as news of the release of the smartphone in these countries has not surfaced (or even rumoured) at this point in time.
Also, as Xiaomi's budget offerings are considered value-for-money devices, as they complement their internal technical specifications, you could try ordering the handset via the Chinese third-party seller.
Xiaomi Redmi 2 should do well to cater to people looking at buying smartphones on shoe-string budgets.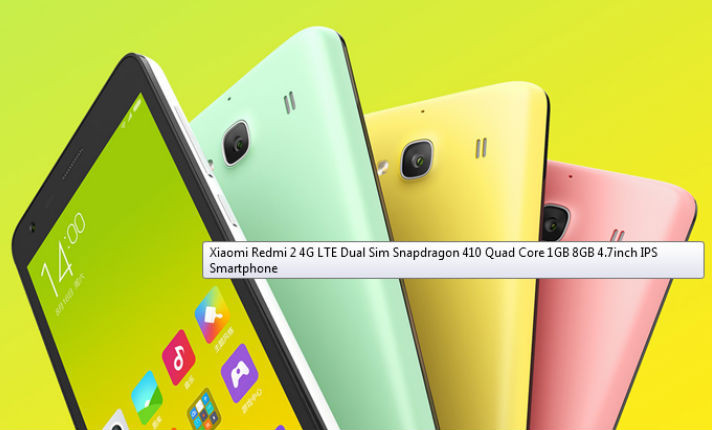 Key tech-specs of Xiaomi Redmi 2:
4.7in IPS scratch-resistant display; enclosed within Gorilla Glass 2
Android 4.4.4 KitKat operating system, with MIUI 6 on top
Qualcomm Snapdragon 410 64-bit processor
Dual SIM-card support
1GB RAM
8MP primary camera
2MP secondary camera
8GB internal storage
MicroSD card support for expansion of internal storage up to 32GB
4G-LTE, Bluetooth 4.0, HSPA, HSPA+, 2G, Bluetooth 4.0, Wi-Fi and microUSB connectivity
2,200 mAh Li-Ion battery; with claimed standby time of up to 3 days
Apart from the Redmi 2, Xiaomi is also expected to launch a successor to its high-end Redmi Note and the Mi 4 smartphones, in the very near future.
The Chinese company also has an event scheduled for 15 January, during which the Mi 5 is highly speculated to be launched officially.