Xiaomi has been traditionally rolling out regular Android updates for its flagship phones including the Mi 3 and the Mi 2, while the official Android 5.0 Lollipop update has long been elusive, given the complexities involved in reforming the MIUI framework and UI skin over an entirely new Android platform.
As Android Beat reports, the lack of kernel source code for Xiaomi's devices including the Mi3 is actually hindering third-party developers from creating a Lollipop ROM for these devices.
Consequently, an industrious Xiaomi developer named Ivan has just released a stock Android 5.0 ROM for the Mi 3W and Mi 2 smartphones, which is now available for manual download via MIUI official website.
On the downside, numerous bugs and issues have been reported with the yet untested release of stock Android 5.0 ROM for Xiaomi Mi 3W, while the Mi 2 version seems to be more stable with no broken features or inherent bugs found till date.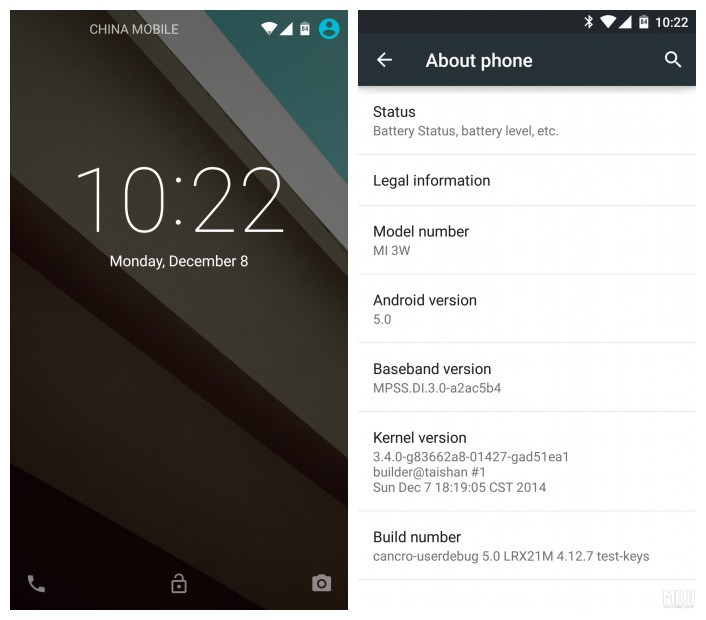 Check out the complete changelog featuring important fixes and updates for the new Lollipop update (below):
Fixed Bluetooth calling problem
Optimised CDMA SIM card recognition (full wipe recommended)
Updated audio files
Updated GPU driver (V84)
Updated kernel
Updated some private library files
Updated some initialisation settings files
Updated Messaging UI to be more like Android 5.0 style
Updated Sound Recorder UI to be more like Android 5.0 style
Updated STK apps UI to be more like Android 5.0 style
Added a file explorer (the one often included in Ivan's ROMs)
Fixed some system bugs to make it more stable
Qualcomm related optimisation
Included some GMS core service pack (including talkback service)
Fix the bug that device could not boot up after flashing recovery file to system 2
Replaced stock calendar/camera/music with the Google apps
Fixed OTG mount failure in some cases
Interested users may go ahead and download the stock Android 5.0 Lollipop ROM for the Mi 3W from here and for the Mi 2/2S from here.
It is advisable to back up important data and settings on your device before you proceed, as the ROM installation requires you to format the phone.