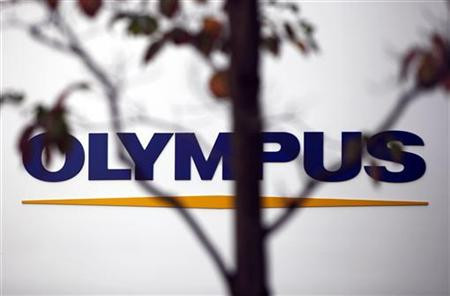 Speculation is rife that the yakuza, known as the Japanese mafia, may have had a hand in the Olympus-Gyrus deal scandal, which saw $2billion haemorrhage from the company in huge consultancy fees and acquisitions of obscure companies.
In the UK, the Serious Fraud Office has opened a formal investiagtion into the deal.
Although there's no concrete evidence of any gangland involvement, it "appears to bear all the hallmarks" of involvement of organised criminals.
Those were the words of Velisarios Kattoulas, who works for Poseidon Research, an advisory firm that helps multinationals on doing business in Asian markets, including Japan.
He told the Financial Times that Poseidon has been in contact with people close to organised crime in Japan, who fear that a powerful yakuza group are involved.
According to a Reuters source, Japanese police who specialise in organised crime have now joined the investigation into Olympus Corporation's accounts, fuelling suspicions of gangland involvement.
Michael Woodford, the British former CEO of Olympus forced out of the company after blowing the whistle on the dodgy Gyrus deal, fears returning to Japan because of "security issues".
He has not confirmed exactly what those fears are for, least of all if they're specifically of yakuza mobsters.
Yakuza gangs are deeply embedded in Japanese business and culture.
After the Second World War, in the messy political aftermath, yakuza gangsters managed to infiltrate political power.
Since then different factions have grown and are spread across not just Japan, but the world.
Japanese police and politicians have tried tirelessly to crackdown on mob involvement in Japanese life and have introduced tough laws against gangs.
A 1992 law meant that groups of gangsters were designated as organised crime syndicates.
This label meant the police could exercise more power over the gangs. As a result, gangs that were previously open about who they were could no longer display their logos and identify themselves or legitimately engage in business activity.
Yakuza groups cloaked themselves with front companies, which meant they actually became further embedded in the legitimate business communities.
As a result of more recent crackdowns, including several yakuza bosses have been prosecuted for extortion.
There's been an increase in the use of threats by gangsters to get insider information on companies, before big bets on the stock market.
Two dozen sumo-wrestlers were suspended from Japan's top leagues in 2010, after it was discovered they had been fixing matches on behalf of yakuza crime bosses.
A link has existed between sumo wrestlers and the Yakuza for a while.
"Failed sumo wrestlers often end up as yakuza enforcers," Jake Aldstein, an authority on Japanese criminal gangs, told the Guardian.
"The sumo world and the yakuza world have long been intertwined. Some ex-sumo wrestlers have even become yakuza bosses."
As the Olympus scandal unfolds and the police investigations deepen, the truth about any yakuza involvement in the company could emerge.
Though arrests may be made and another light shone on the level of entrenchment by organised criminals in Japanese society, Japan is still a very long way from quashing the power of the fearsome yakuza.