Sick of Serco: Meet the Protesters Outside the Outsourcing Giant's London AGM
As the drips of rain slide down the Clifford Chance building in Canary Wharf, a small gathering of protesters huddles outside under the canopy in front of the entrance.
Outnumbered by the plastic plods of the Wharf's security team, the small group unfurl their small banners.
But their message to Serco, the British outsourcing giant who's AGM was being held in the tower, was big – keep your hands off public services.
"Serco gets billions of pounds of public revenue for running services badly and there's been scandal after scandal," Cat Hobbs, a director at the anti-privatisation campaign We Own It, tells IBTimes UK.
"The fact that a company like Serco, which is under criminal investigation, is getting billions of pounds of public money ... is a new low for privatisation and outsourcing."
Annus horribilis
It's been a bad year for Serco in what campaigners like Hobbs are saying is indicative of the trouble with privatising public services.
The firm issued a profit warning for 2014 as a result of the costs of becoming embroiled in the electronic tagging scandal.
Serco, as well as its rival G4S, was found to have overcharged the Ministry of Justice (MoJ) on its contract to tag offenders.
It is now under criminal investigation by the Serious Fraud Office (SFO) over the contract, where the MoJ were invoiced for tagging work that was never carried out. In some cases this is because the offender was dead.
As a result of the scandal, the government put an embargo on Serco winning new public contracts until it convinced ministers it had changed.
Christopher Hyman quit as chief executive of the business and has been replaced by Rupert Soames, the former boss of Aggreko and grandson of Winston Churchill.
He's been tasked with laundering Serco's image.
And Serco repaid £68.5m to the government for its overcharging on the MoJ contract. As a result, the contracts ban was lifted in early 2014.
It was the overhanging tagging scandal and the cost of internal reorganisation, plus the temporary loss of new contracts, that dented Serco's financial performance.
Its share price suffered and so did its reputation.
Polling by Survation on behalf of We Own It found that almost 80% of Britons don't think Serco should be able to win new government contracts.
Probation
Pat Waterman, chair of the Great London branch of the probation workers' union Napo, is also at the Canary Wharf protest.
"Serco already run community service - unpaid work - in London. They got the contract for that two years ago," she tells IBTimes UK.
"My members are constantly telling me of the way they're running it and it's not good. I don't think I'm the only one who thinks this because there's a rumour going around that Serco are going to give up on that four year contract they were awarded two years ago."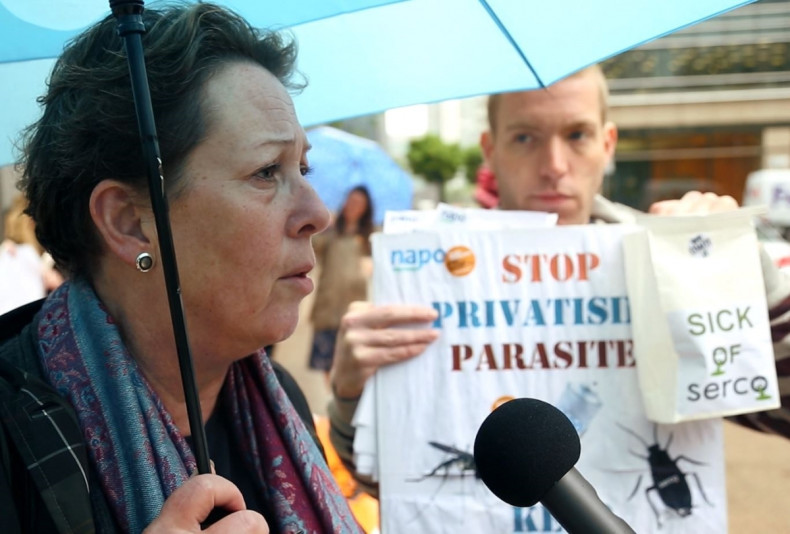 Waterman fears further privatisation of the probation service, which oversees offenders who are released on licence, something the government claims will save taxpayers hundreds of millions of pounds a year.
But at what cost to the service? One internal report at the MoJ found that the public would likely be put at higher risk by privatisation of probation.
"This privatisation of public services is happening to the probation service as we speak," she says.
"At the end of this month, award-winning probation trusts are going to be dissolved. Some of my members are being moved into a new national probation service.
"But the rest of them are being moved into what's being called a 'community rehabilitation company'. A holding company that is then going to be put up for sale."
There is currently a bidding process for firms who want to run that service in London, which includes a pitch from Serco rival Atos.
Waterman thinks the bidding process is about to be refreshed and that Serco will step up to put its own bid in – something she does not want to see happen in light of the tagging scandal.
Worst of all worlds
Hobbs is not dogmatically anti-market. She says she is "all for" a free market when it can work. But public service monopolies and the profit motive of private firms is "not a good combination".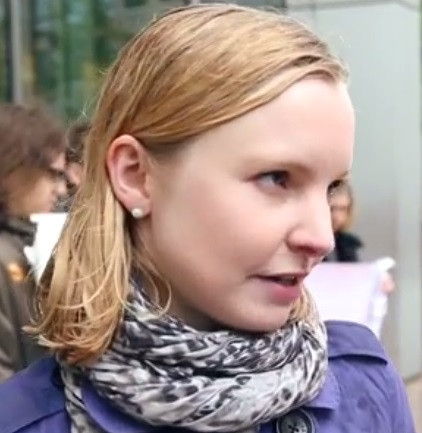 Cat Hobbs
IBT
"You've got a few companies who have a stranglehold on our public services. So Serco, Atos, Capita, G4S – we gave them £4bn last year. It's not a free market. It's basically a private monopoly and that's the worst of all worlds," she says.
"Public services need to be run for the benefit of the people who use them. That means we need a public service ethos. It means we need profits to be reinvested in the service, not given off to shareholders. Private companies can't deliver that. They can do other things, but they can't deliver good public services.
"And that's why we see across the board when private companies run public services we see prices increasing, we often see quality decreasing, because there's a direct conflict between the profit motive and taking care of people in public services."
So why are they standing in the drizzle-misted Wharf, as the wind gusts around the skyscrapers, while Serco executives and shareholders keep warm and talk business inside?
Do they think they can force back the tide of privatisation that has gushed forward since the early 1980s?
"Well we're having a go," says Napo's Waterman, clutching an umbrella.
"If I didn't think so I wouldn't be standing out here in the rain."