Houthi rebels in Yemen have agreed to Saudi Arabia's proposed five-day truce in the conflict in order to allow aid to reach civilians in the region who are facing a humanitarian catastrophe.
Under pressure from the US, the Saudis put forward the proposal on Friday (8 May) and the ceasefire will begin on Tuesday 12 May, though both the Saudis and the Iran-backed Houthi militia say they will respond to any violations.
"We will deal positively with any efforts, calls or serious and positive measures that would help lift the suffering and allow aid, supplies and ships to move safely to Yemen," said Houthi army spokesman Colonel Sharaf Luqman in a statement published by the Saba news agency.
The Houthis say they are at war with al Qaeda in the country who they accuse of backing former President Abd-Rabbu Mansour Hadi. The Saudis and US want to restore President Hadi's government.
"Any military violation of the ceasefire from al Qaeda and those who stand with it ... will be responded to," continued Luqman.
Until the ceasefire begins the conflict continues, with Yemen's capital Sana'a rocked by a series of air strikes by the Saudi-led Coalition which destroyed the residence of former President Ali Abdullah Saleh.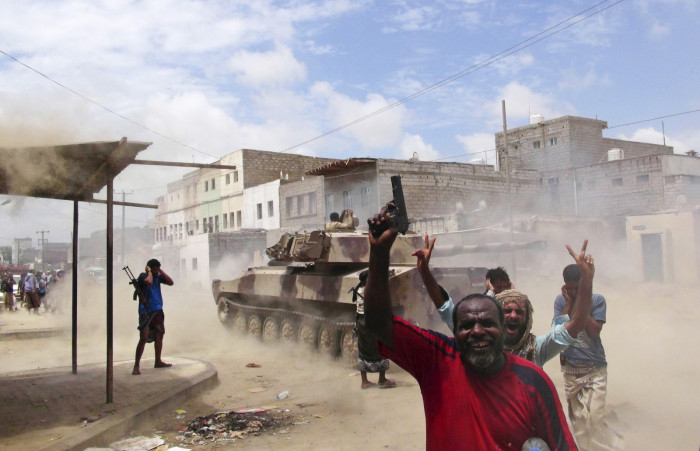 Saleh appeared on television soon after, standing in the ruins. Wearing dark glasses and seeming composed, he taunted the Saudis saying: "It isn't just me who is being targeted but every citizen ... This aggression is cowardly. Go ahead and come by land, we'll make a welcome for you."
The United Nations has criticised Saudi Arabia for repeatedly targeting the region of Saada, which it regards a military zone, and has dropped leaflets telling civilians to leave.
In a statement U.N. Humanitarian Coordinator for Yemen Johannes van der Klaauw said the bombing of civilian areas was in contravention of international law.
"Many civilians are effectively trapped in Saada as they are unable to access transport because of the fuel shortage," said van der Klaauw. "The targeting of an entire governorate will put countless civilians at risk."
Since the beginning of the conflict on 26 March the UN estimates 1,400 people, most of them civilians, have died in the conflict.