East African refugees stranded in Yemen are at risk of a catastrophic humanitarian crisis amid the sustained air strikes and heightened street fighting taking place in the past few weeks in the war-ravaged country.
Five weeks of aerial raids and blockade by a Saudi-led international coalition have seriously strained the local Yemeni population, which is suffering from shortages of food, water and electricity. But for tens of thousands of migrants from Eritrea, Ethiopia and Somalia the situation is even worse, with witnesses complaining that they are being left behind by aid organisations overwhelmed by the effort to help the population during the strikes.
"The UN refugee agency told us to stay calm and don't go out of our homes. But we don't have food supplies, water or electricity," Kibrom, an Eritrean refugee who has been living in Sana'a for two years, told IBTimes UK. "I survive with one meal per day of terrible quality, and share it with my friends. We are being left to die here, especially those who don't have support from family abroad."
Many refugees like Kibrom, who in Yemen are able to find informal work as waiters in restaurants or construction workers, have lost their jobs in recent weeks as all the shops and businesses shut down. "We cannot work even for just one hour," he said.
"UN is not supporting us, almost all aid workers have left the country. The ones who have remained, they only help Yemenis. They can only provide for them. Nobody cares for us."
Aid organisations that are still on the ground, such as the International Committee of the Red Cross (ICRC) and Medecins Sans Frontieres, launched an urgent call to the international coalition battling Houthi Shi'ite rebels in the country for unobstructed access after key airports in the capital and the Red Sea port city of Hudaydah have been bombed and are now dysfunctional.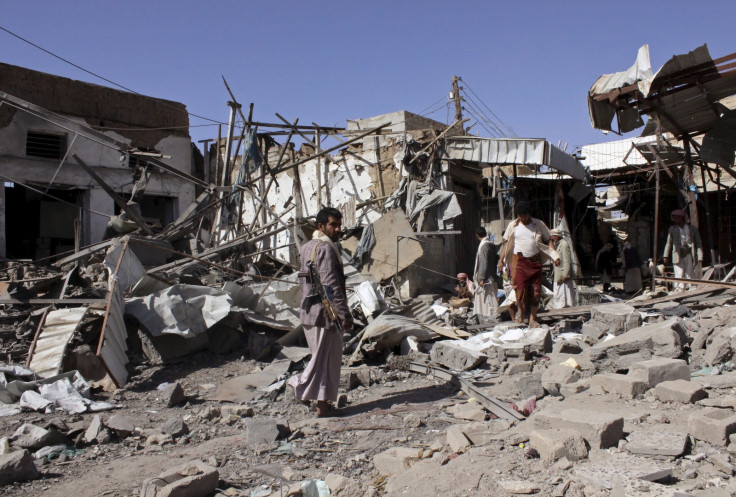 Humanitarian catastrophe
They warned that the air strikes blocked delivery of humanitarian assistance and the movement of humanitarian personnel. "Yemen imports 90% of food and medication, especially for the treatment of chronic diseases," Marie Claire Feghali, ICRC staffer in Sana'a told IBTimes UK. "The country is in extreme water stress and is running out of fuel. The hospitals will shut down soon with no gasoline to operate the electricity generators."
Fuel, which is needed to pump out water, run generators, transportations and telecommunications, has been blocked since the beginning of the Saudi strikes.
Shortage of food means that prices are rocketing and the poor population cannot afford to eat. Street battles between popular committees and the Houthi rebels, who took control of Sana'a last autumn causing President Abd Rabbu Mansour Hadi to flee to Saudi Arabia, have erupted in the past weeks, causing people to hole up in their homes for fear of being caught in crossfire. Others are terrified to even move from their areas due to the presence of snipers.
"Where should we go? Where do you tell us to go?" said Kibrom, adding that many Eritrean refugees are reluctant to escape to mainland villages for fear of discrimination from local Yemenis. "They only host and rescue Yemenis, they won't accept us, we would be strangers too," he said.
"Since we're black, they think we are Sudanese [who are part of the Saudi coalition]," he added.
Somalis make up the largest refugee contingent in Yemen at over 236,000, according to UNHCR estimates. Eritreans and Ethiopians are well over 14,000 all over the country.
Limited options
"The situation is just hopeless," said Swedish-based Eritrean activist Meron Estefanos, who also referred to the dire situation of 27 Eritrean asylum-seekers and 16 Ethiopians who were locked in the Hudaydah prison on the Red Sea along with common criminals.
According to John Stauffer, president of the America Team for displaced Eritreans, who has been trying to advocate with the ICRC to get them out, the inmates have complained about lack of medical treatment and other abuses. "The rebels have threatened to make them fight for their cause," he said. "The prisoners are concerned that the Saudis will bomb the area, not knowing that they are there, and we have asked the US government to inform the Saudi that this is the case."
The UN refugee agency, which has drafted a contingency plan to receive 100,000 refugees in Somalia's relatively stable regions of Somaliland and Puntland and another 30,000 in Djibouti, has admitted that the options are very few.
"The reality is that there are limited options for people to get out," Charlotte Ridung, the officer-in-charge for the UNHCR in Yemen, told al-Jazeera. "Some have fled by boat, but many ports are closed, and fuel is an issue so the options for escape are indeed limited."
The Saudi campaign has killed more than 1,000 people in five weeks and injured more than 4,300 according to UN figures.
"We have adapted to being hungry – I've spent many days without a single meal," Kibrom said. "But we need safety and security before everything else."