Warplanes from a Saudi-led coalition struck an office of Yemen's Houthi rebels and the pro-Houthi television channel al-Maseera in Sanaa. The capital has endured several nights of heavy bombardment targeting Houthi positions and arms stores.
Saudi Arabia and four other Gulf Arab states, along with regional allies, have waged two weeks of air strikes against Houthi forces who control the Yemeni capital and have been fighting for control of Aden.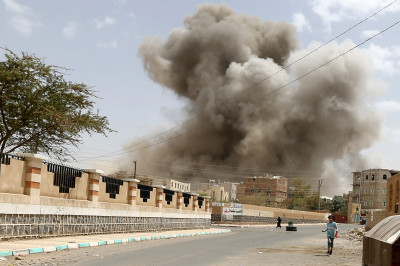 Six people, mostly from the same family, were killed when a house in Beit Rejal village, west of Sanaa, was hit by an air strike on Monday 6 April.
The strike killed three women and three children and eight others were wounded.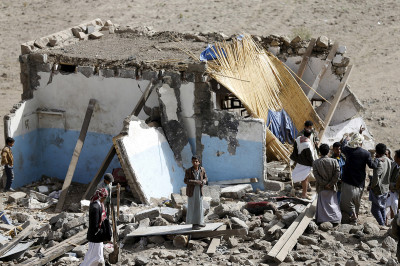 Military sources said five bombs were dropped on a Republican Guard base near the city of Ibb, apparently targeting air defence units and soldiers' quarters. They said the commander of the base was wounded. The Houthis' Maseerah television reported three student deaths.
Overnight air raids also hit Houthi-held weapons stores near Sanaa and further north in Sanhan, birthplace of the former president Ali Abdullah Saleh, who has allied himself and his army loyalists with the Shi'ite Muslim Houthi fighters.
Other raids targeted military positions on the Red Sea coast near the port of Hodaida and Yemen's northern provinces of Saadah and Hajja along the border with Saudi Arabia, and a ground forces base at Makairas, 150 km (90 miles) northeast of Aden.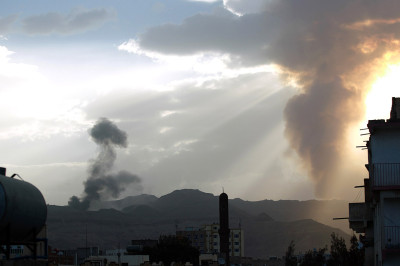 An air strike on a village near the Yemeni capital Sanaa killed a family of nine, residents said, in what appeared to be a hit by the Saudi-led military campaign against Houthi militia. Five other people were wounded and some citizens remained under the rubble, state news agency Saba said.
Residents near Okash village, which is near an air force camp on Jebel al-Nabi Shouieb mountain, said the air strike on Friday 3 April killed nine people.