A state of emergency has been declared in the Yemeni capital Sana'a after authorities warned that the cholera outbreak, which has already killed dozens of people in the country, could lead to an "unprecedented disaster".
Around 115 people have died from cholera nationwide from 27 April to 13 May and more than 8,500 have been infected by the disease in the Houthi rebels-controlled city, BBC reported. According to the Red Cross, the number of suspected cases in war-torn country has tripled in a week.
To avert any major disaster from occurring due to the outbreak of the diarrheal disease, Yemen's health ministry has urged humanitarian organisations and aid donors to help it deal with the epidemic.
The country's healthcare system is reportedly struggling to cope as it nearly collapsed due to the ongoing civil war, the state news agency, Saba, said. Only a few medical facilities are thought to be functioning in the country.
Yemen is reeling from the conflict between the Houthi rebels and the government, which escalated in March 2015 when Saudi Arabia started extending support to the Yemeni government. The conflict is characterised as a proxy war between Sunni forces in Saudi Arabia and Shia Muslims in Iran. The death toll in two-year deadly conflict has crossed more than 10,000.
According to the UN, two-thirds of the Yemeni population does not have access to safe drinking water.
Cholera is a water-borne bacterial disease that is transmitted through contaminated food and water. Acute diarrhoea and vomiting are some of the main symptoms of the disease. Although the infection can be treated, it needs timely attention. Death can also occur within hours if a patient is left untreated.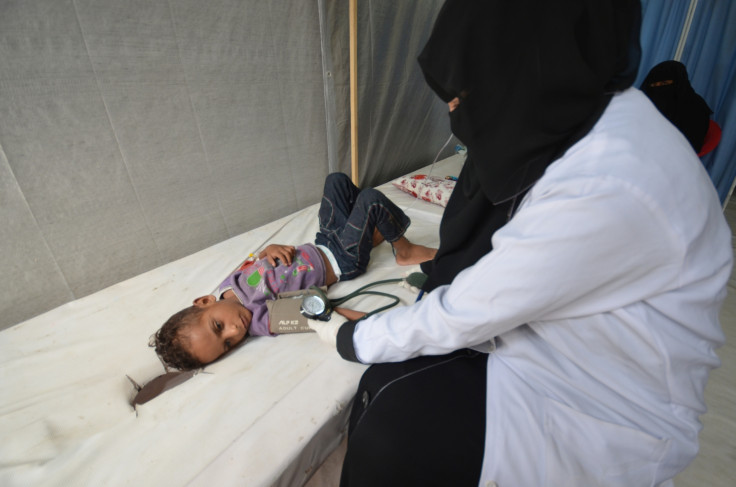 "We now are facing a serious outbreak," Dominik Stillhart, director of operations at the International Committee of the Red Cross, said on Sunday (14 May).
Sana'a has been worst hit by the epidemic, followed by the surrounding province of Amanat al-Semah, according to the World Health Organization (WHO). The outbreak has been reported in even other major Yemeni cities like Hodeidah, Taiz and Aden.
WHO added that around 7.6 million people live in areas that are at high risk of cholera transmission.