British defence secretary Michael Fallon has seen analysis that UK-made cluster bombs were used by Saudi-led forces in the Yemen conflict, it has been reported.
Government analysis is said to support media reports that the munitions are being used in the war, despite public denials by Riyadh, which says the UK-made cluster bombs date from prior conflicts. The UK is a signatory to a treaty banning cluster munitions.
A senior defence source told The Guardian that Fallon, as well as other ministers, has known about the analysis for about a month, and that the issue of UK-made cluster munitions has been "raised at the highest possible levels and we have been trying to establish definitively for some time".
The government is under pressure to end its exports of arms to Saudi Arabia. The SNP leader in Westminster, Angus Robertson, who has previously raised the issue in parliament, told the paper he has heard about the Saudis dropping UK-made cluster munitions in Yemen.
"It is totally unacceptable and piles pressure on the Ministry of Defence and Foreign Office to come clean. The US has now stopped supplying Saudi with guided missiles and it's high time for the UK to adopt an ethical approach," he said.
The Ministry of Defence would not comment on the analysis itself, but said in a statement: "The government takes such allegations very seriously.
"We have analysed the case carefully using all available information, considering all possibilities, and raised the issue with the Saudi-led coalition."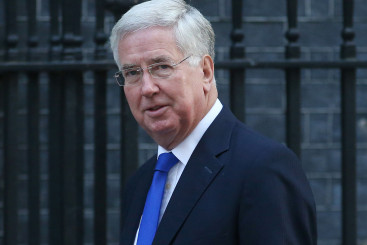 Earlier in December, the foreign secretary, Boris Johnson, said that Saudi Arabia was engaged in proxy wars in the Gulf. This claim was slapped down by Theresa May, who backed Riyadh as a firm ally and emphasised that the intervention in Yemen was sanctioned by the United Nations.
However, Yemeni prime minister Abdel-Aziz bin Habtour has accused the UK of "war crimes" over munitions being used in the war-torn country.
Since a Houthi rebel uprising against the Yemeni government in 2015, there have been an estimated 10,000 deaths. The Disasters Emergency Committee said the country is at "breaking point" with as many as half a million children suffering from malnutrition.
Yemen's former prime minister, Khaled Bahah, said in November that Riyadh's role in the conflict is welcome and that the Houthi rebels they are targeting do have a future in the country, should they agree to peace.