---
After a perilous exodus from Sana'a in recent weeks, a human rights activist talks to Yemeni civilians about what life is like when all sense of normality vanishes in the face of war. Residents shared harrowing stories of life since the start of the Saudi-led campaign more than 50 days ago.
---
Travelling from Yemen's capital, Sana'a, to the city of Taiz, in the centre of the country, is not easy at the best of times. Trying to do it in the midst of a relentless Saudi-led campaign of missile strikes and internal fighting makes it perilous.
The bus was two hours late. Eventually, we found a cab with just enough fuel to take us to Ta'iz. Later, after we got there, we were told that the bus we were supposed to take had come under heavy gunfire by unknown armed men at a checkpoint near Ta'iz. In Yemen, luck plays a big role in dodging the danger which lurks around every corner.
In Ta'iz, as in Sana'a, there is a stifling lack of fuel products, power outages, and the danger of Saudi-led coalition air strikes in support of president Abd Rabbu Mansour Hadi.
Yet Ta'iz has the added peril of an internal armed conflict being waged between the Houthi militias and forces loyal to former President Saleh on one side, and the so called "Popular Resistance," made up of militias close to the al-Islah Party and forces loyal to president Hadi.
The people of Ta'iz are struggling to cope as the entire surrounding area is coming under fire, from the scenic outlying villages nestled beneath the mountains to the city's beautiful intimate alleys. The mountains that have always calmly embraced the city have become the source of sudden blasts that remind people that they are not as safe as they might think. The streets of the city and villages are now bustling with rockets, shells and bullet rounds instead of people.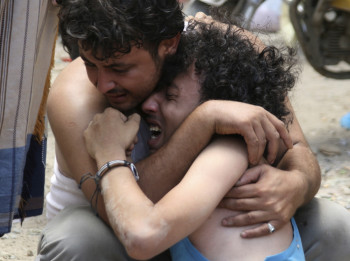 Munther sat in a Ta'iz neighbourhood with his back against the wall. In a choked voice, he spoke about his two relatives who were torn to pieces by a shell launched from an unknown location while they were playing in a nearby alley on Friday, the day children normally flood the streets.
The locals said that there were no militants in the alley; so Ayham Anees (12) and Mohammed Mazen (7) were out in the open when the shell landed.
"I was the one who asked them to play in that particular alley because it was a safe alley," Munther said, looking reflectively at the ground.
Salah's voice carries the same sorrow. He had been staying at the hospital to accompany his friend, Mohamed al-Utaibi (25), who lost his leg as a result of a strike on Salah's home, where the two men have been quietly sitting chewing qat (a plant-based stimulant similar to coffee).
"I insisted that Mohamed give back the bus he drives to its owner and come to my home. I wanted to protect him from the shells, only to have one of them land on my house and now his leg has been amputated," said Salah.
Each word I uttered to alleviate Salah's sense of guilt passed between his ears only to fade aimlessly; this was clearly evident in his eyes.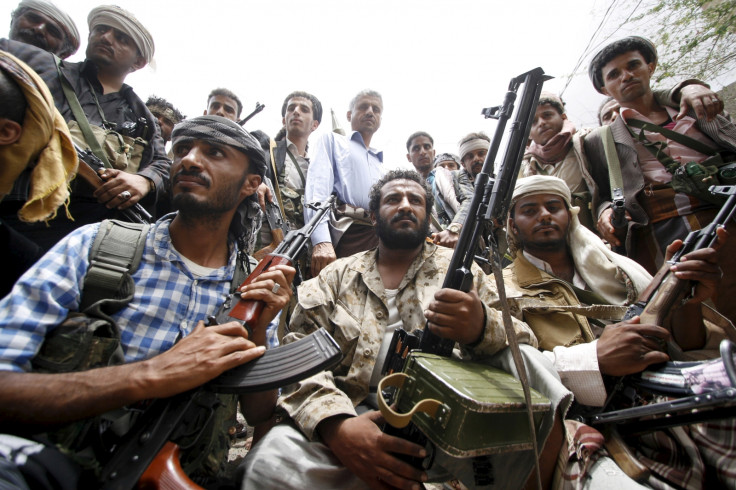 Salah also said that the militants from the popular resistance had set up a base in the ground floor of his building. He lives on the third floor. He explained that he had asked them to leave, but his demand was meaningless when faced with a tank.
Judging from the path of the shell that pierced three walls, Salah believes that it came from a Houthi-driven tank positioned in front of a nearby school.
'We believed the Saudis were being honest'
Akamat Alkharabah is a peaceful village located an hour away from Ta'iz but any sign of tranquillity quickly faded when a Saudi-led missile struck the poorest area.
The missile killed seven children, two women and one man. The houses were demolished and abandoned shortly afterwards. I asked the villagers why they had not left the area earlier, given the military camps nearby.
"We believed [Saudi Arabia's Brigadier General Ahmed Asiri] was being honest when he told us that the coalition targets are very accurate and our planes do not kill civilians," a young villager responded in a sharp yet subdued voice.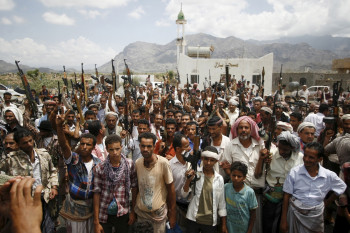 Wadha, however, was not so assured. She sleeps wearing her black cloak, just in case. "I was home alone when I heard the explosion and expected the house to come crumbling down on my head. After things became quiet, I went outside and the air smelled like burning car tyres. I ran away when they started taking out the bodies – I simply was not able to stand the scene."
Wadha said that many people left the area after the missile strike and that they quickly returned to their homes in daylight, but are now too afraid to spend the night inside.
Whatever the 'righteous' cause, death is always the same
Ordinary people die although they are neither related to the warring parties nor do they sympathize with any of them. People moan about the carnage, but their complaints can't raise above the commotion stirred up by the conflicting parties –who claim, each in turn, that they are defending the best interests of ordinary citizens.
Then there is the road that extends beyond Mount Sabr from Ta'iz to Misrakh. It is hard to imagine anyone encountering another pointless death in such a beautiful setting. I saw a lush green area with many mango trees. Women dressed in bright colours and neat hats made of straw sitting at markets selling goods alongside men.
The Sabr area is famous for such breathtaking scenes. But even here, the shells and rockets show no mercy. Fired from the top of Mount Sabr, they landed in a quiet village called al-Dhahra, nestled at the foot of the mountain.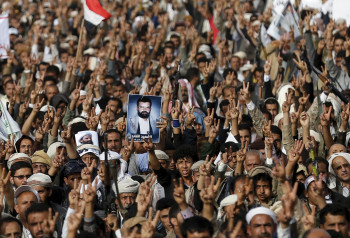 I did not want to see the aftermath of a bloodbath after witnessing the beauty of such surroundings.
On 16 May three consecutive shells killed seven villagers (four women, two children and a man). The incident is still fresh in the minds and tears of the villagers. Their hands shiver when they recall it; they pause after each word they utter, gasping for breath.
A woman in the village approached me and said that she would take me to see "Wazeera" who witnessed what happened. I smiled to myself when I heard the name (which means a female minister).
With tears in her eyes, Wazeera told me: "As I was sitting with the mother of the dead boys [Azzam and Ahid], we heard a whistling sound and I saw something burning. We jumped up and, upon arrival, saw Dua'a [one of the women] bent over herself as she was chopping potatoes in front of her home before being killed by the first shell.
"A number of men from the village came to rescue Dua'a while I was searching for my children. Then someone shouted 'get down'! The second shell landed as Ramzi was carrying Dua'a in a blanket; he shouted 'Allahu Akbar' [God is Greatest] before the shell exploded. I approached to help them and Ahid was calling me 'hey auntie, I'm injured, help me.'"
"I saw Ramzi's headless body while Azzam, who had lost his leg, was calling for his mother to come to his aid, saying that he was bleeding. Sina'a was lying face down with an injury to her neck. Ahlam came to lend a hand while carrying her nine-month-old baby.
"Then, a third shell landed and ripped through Ahlam's back, coming out from her chest. She died. Her baby lost her leg. I went searching for my children and I do not know when I sustained injuries to my hand and foot. I was just running and running, trying to save someone."