Turkish Prime Minister Recep Tayyip Erdogan launched another tirade against the Netherlands a day after Mark Rutte fought off the challenge of his anti-immigration and anti-Islam rival Geert Wilders.
While world leaders congratulated the Dutch Prime Minister on his landslide victory, Erdogan threatened to tear up the EU migrant deal and told Rutte that he had lost Turkey as a friend.
Despite warnings from the EU and NATO to tone down his inflammatory rhetoric, Erdogan has continued to engage in a "war of words" with the Netherlands. The diplomatic row between the two countries started when Turkish ministers were banned from addressing rallies there to drum up support for Erdogan ahead of a constitutional referendum that would give him sweeping new powers.
Mark Rutte's tough response to the Turkish campaign is considered an important factor behind his party's electoral victory. It gave him the opportunity to show strong leadership and his refusal to bow down to foreign powers.
The Turkish Prime Minister was less impressed with Rutte's success than other heads of state. In a televised speech on 16 March he addressed the Dutch Prime Minister: "Hey Rutte! You may have emerged as the number one party in the election but you must know that you have lost Turkey as your friend," he said.
He threatened to retaliate by tearing up the EU Turkey deal which was agreed to curb the number of refugees moving to the continent. "You bar my minister from entering the Netherlands ... and then you expect us to grant access to migrants? There can be no such thing," he told the Dutch Prime Minister.
At a rally earlier in the day, the Turkish foreign minister Mevlut Cavusoglu warned of imminent "wars of religion" starting across Europe.
"There is no difference between the mindsets of Geert Wilders and social democrats in the Netherlands. They all have the same mindset...That mindset is taking Europe to the cliff," he said.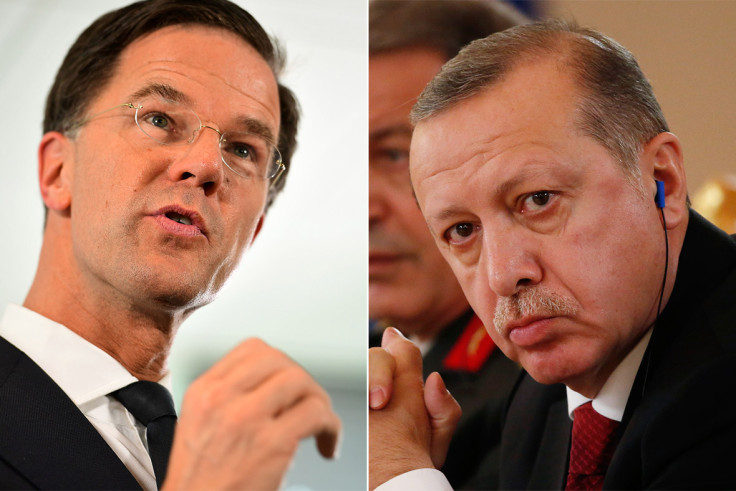 Erdogan also criticised the European Court of Justice's ruling that companies were allowed to ban women from wearing headscarves at work.
"Shame on the EU. Down with your European principles, values and justice... They started a clash between the cross and the crescent, there is no other explanation," he said.
Turkey is a secular country and wearing headscarves and other religious symbols was banned for decades. Erdogan and his Islamist rooted AKP party fought to overturn the ban on grounds that it was discriminatory. In 2013 the ban was abolished, a parliamentary decision Erdogan hailed as "a step towards normalisation."