Reboots, prequels and ever-expanding franchises are more popular than ever these days, yet while audiences might love to see their favourite films revisited on the big screen, the studios have some serious weight on their shoulders to deliver something that will honour the source material. Rogue One: A Star Wars Story proved that it's possible to do so and now Disney and Lucasfilm face the same daunting task with its upcoming spin-off, centred completely around a young Han Solo.
But of course, it's not just the studios that have responsibility. Arguably, the new actors charged with portraying existing, well-loved characters feel the pressure even more so and Donald Glover – who is set to play smooth-talking smuggler Lando Calrissian in the film – is no exception.
During an interview with Deadline, the Atlanta star touched on how honoured he is to be involved in something so huge and how it means a lot to him personally to be able to honour original actor Billy Dee Williams and please Star Wars fans too...
"Lando's a big deal," the 33-year-old stated. "He's the first toy I ever got... It's interesting, when you have something iconic in a range when people pay attention to it, it's hard. You want to live up to the expectation, but you can only live up to your own."
When it comes to the currently untitled film, pre-production is still very much in the early stages... so at least Glover has some time to mentally prepare. (Not that fans think that he'll need it). The only performers cast alongside him so far are Game Of Thrones' star Emilia Clarke in an unknown role, Woody Harrelson, who will play the lead character's mentor and Hail, Caesar! actor Alden Ehrenreich, who was cast as Solo back in July 2016.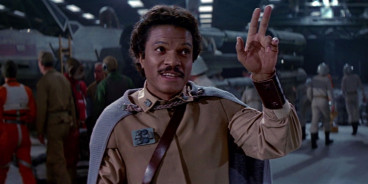 The Lego Movie's Christopher Miller and Phil Lord are set to direct, working with a script from Lawrence Kasdan and his son, Jon. The anthology film was initially hoping to reach cinemas in May 2018 but could now be slated for a December 2018 release instead, according to fan site Making Star Wars.
For more entertainment news follow A-List on Twitter @Alistinsider