For years, Frauke Petry was the face of Germany's far-right Alternative for Germany (AfD) party which has become known for its derision of open borders, Islam and political correctness.
She was expected to lead her party into September's federal elections and challenge Angela Merkel for the Chancellorship, but caused shock when she surprisingly dropped out citing divisions in the AfD.
In her place, the party elected Alexander Gauland and Alice Weidel to take the helm at a party conference met with hundreds of protesters, while Petry would take a more behind-the-scenes role.
Gauland, a 76-year-old former lawyer with a penchant for tweed jackets that seem to be in fashion among leaders of the far-right, was not a surprising pick.
He has branded Merkel a dictator and sparked outrage when he said Jérôme Boateng, the mixed-race Bayern Munich footballer, was liked, but that people would not "want to live next door [to him]".
Weidel's election caused a few more eye brows to be raised, however.
The sharply-dressed 38-year-old has a doctorate in economics and spent six years in China working with Goldman Sachs and Allianz Global Investors, but most surprisingly, she is openly gay.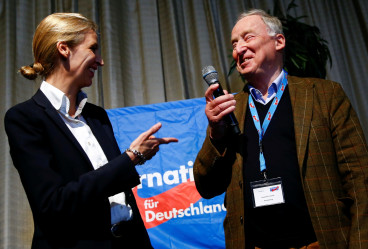 More controversial, however, is the party's "family" policy that defines marriage as strictly a relationship between a man and a woman and says that children should not be taught about LGBT issues in schools because it may "overwhelm" their ideas about sexual identity.
Jürgen Falter, a politics professor at Mainz University, believes that her election is an attempt to soften the party's image and make them more palatable to centre-right voters.
"The AfD wants to send out a signal that they're not as bad as people think and a lot more liberal," he told the FT.
"Whether the strategy will work is unclear. It's hard to see how her election is enough to compensate the AfD for the loss of their main campaign theme – the refugee crisis."
How Weidel, who has two sons with her Swiss partner, will reconcile her views on homosexuality with those of her party's is yet to be seen.
When asked by the FT to comment on that contradiction, she said: "To be in favour of the traditional family does not mean you reject other lifestyles.
"The AfD is not homophobic. The fact I was elected top candidate shows how tolerant it is."