German footballer Jerome Boateng says he is saddened by comments made about him by a far-right politician.
Alexander Gauland, deputy leader of the hardline anti-immigration AfD party, sparked outrage across Germany after suggesting that Germans would not want Boateng – among the most prominent black footballers in the country's national team – as their neighbour.
Boateng, 27, was born in Berlin to a German mother and a Ghanaian father. He has won 58 international caps for Germany and played a key role in the country's 2014 World Cup triumph.
"People find him good as a footballer, but they don't want to have a Boateng as a neighbour," Gauland told the Frankfurter Allgemeine Zeitung newspaper on 29 May.
AfD later apologised for the remark, which was criticised by German Chancellor Angela Merkel's office as "vile".
'Proud to be German'
"I can only smile about it. In all honesty, it's sad like something like that is said these days," Boateng was quoted as saying by Sky Sports after Germany's friendly defeat to Slovakia in Augsburg.
"I am happy to be a German, I'm proud or I wouldn't be here in the team.
"I believe I am well integrated and there is nothing more I need to say. I think enough people have said something about it."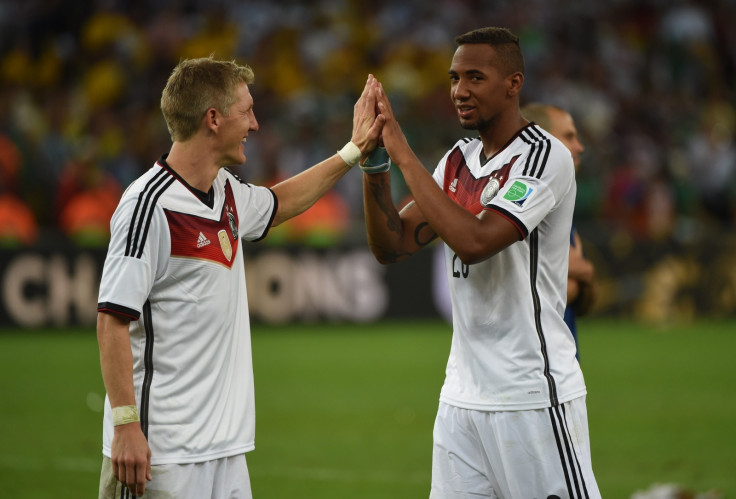 Germany fans unveiled banners in support of Boateng during the Slovakia match, including one which read: "Jerome, be our neighbour!"
Boateng added: "I think there were enough positive answers in the stadium. I saw a few placards."
AfD chief Frauke Petry moved to limit the damage from Gauland's comments on social media, saying Boateng was a "quality player and deservedly part of the German national team".
She also apologised for the "impression that has risen" from Gauland's quote.
German right-wing parties have seen their popularity rise in recent months amid public anger over immigration and Merkel's handling of the refugee crisis.